After the second annual Tomasz Tabor Golf tournament was held at the Riddell's Bay Golf Club last year, the $25,000 raised was donated to the Bermuda Hospitality Institute to maintain three hospitality scholarships that were created in Mr. Tabor's name.
One $10,000 scholarship is awarded for overseas studies and two $5,000 scholarships for local and overseas studies, with the additional $5,000 used to sponsor a Junior Chef Culinary Program in July 2016 for children ages 10 to 15.
This year's recipients include Jaidah Bailey and Indiyah Mendes, with the third recipient to be announced at a later date.
Malika Cartwright, Executive Director of BHI, said, "The Hospitality Institute is committed to support those students seeking hospitality-related careers.
"The future of hospitality and tourism lies with our youth, and the Hospitality Institute is seriously committed to doing its part to develop the future leaders of the tourism industry."
Jaidah Bailey, BHI Executive Director Malika Cartwright, and Indiyah Mendes: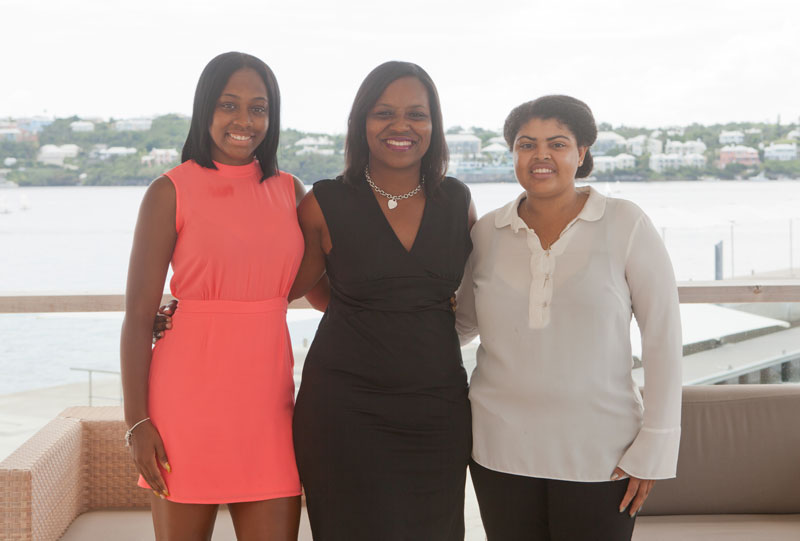 "I want to extend a heartfelt thank you to the friends of Mr. Tabor for taking the initiative to partner with as we work to develop the future leaders of the Bermuda tourism and hospitality industry."
A spokesperson said, "Attending the University of Surrey, Indiyah Mendes has been awarded a scholarship in the amount of $10,000. Ms. Mendes will continue her education toward a Bachelor's Degree in International Hospitality & Tourism Management with a concentration in Hotel Management. Ms. Mendes has spent the summer working at the newly opened Anchor Restaurant in Dockyard.
"Pursuing a Bachelor's in Hospitality Management at the University of Nevada Las Vegas received $5000 towards her studies. Jaidah Bailey is a 2015 graduate of the Bermuda Hospitality Institute's Skills, Tasks and Results Training or S.T.A.R.T progamme for students aged 16-18 and has been working at The Hamilton Princess & Beach Club for the summer.
"The Bermuda College Recipient will be named at a later date.
"Mrs. Cartwright congratulated all the students, and reiterated the Hospitality Institute's commitment in continuing to support those seeking hospitality-related careers.
"The third nnual Tomasz Tabor Memorial Golf Tournament and Raffle is scheduled for Monday, September 19, 2016 at Port Royal Golf Course."

Read More About