Lydia – the 2,000 lb, 14 foot 6 inch great white shark being tracked on her travels around the Atlantic Ocean – is getting set to pass in Bermuda's vicinity again, according to ocean research group OCEARCH. Lydia is no stranger to Bermuda's waters, having passed by our general vicinity a several times previously.
Photo of Lydia via OCEARCH/Robert Snow: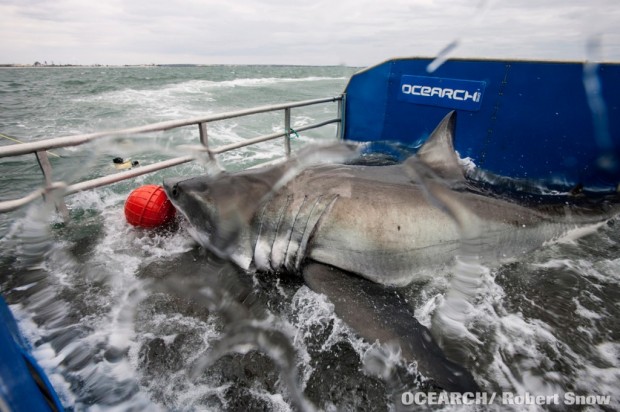 On March 03, 2013, Lydia was tagged near Jacksonville, Florida, and since that time she has been tracked thousands of miles, and the adventures of the 2000lb shark have been notable, with her arrival in the UK making Lydia the first great white ever recorded to cross the Atlantic Ocean.
Dr. Simon Thorrold from the Woods Hole Oceanographic Institution previously said, "Turns out Lydia is a diver, reaching a maximum depth of 3,543 ft. while she was out around the New England sea mounts, and regularly diving to at least 2,624 ft. as she traveled up past Bermuda through the Sargasso Sea."
According to their tracking, Lydia is northwest of the island: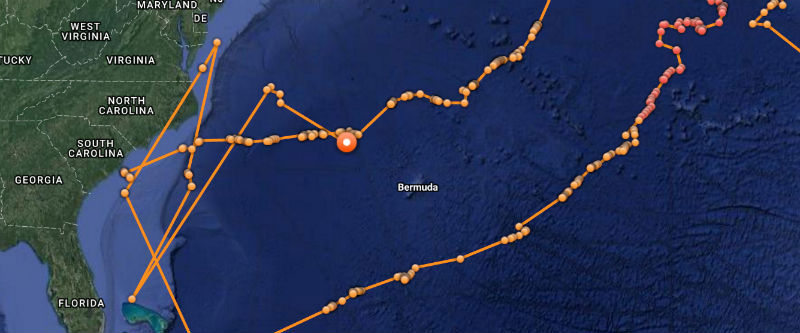 Read More About
Category: All, Environment, News