The Bermuda Arts Centre is set to open two new exhibits this month, including a four-artist feature dubbed "The Team Returns" and a solo show by artist Michele Smith.
Both shows open on Sunday, October 9 from 5.30pm to 7.00pm, running until November 18.
A spokesperson said, "The show 'The Team Returns' features new work created by our four artists.
"Nahed Eid [mixed media] takes bits and pieces of discarded every day items and turns them into functional art pieces. Her pieces are embellished with semi precious stones and wire. Whoever thought that a mere cork screw could actually turn into an amazing functional piece of art.
"Christopher Marson [Watercolour/Gouache/Oil]. Although known as one of Bermuda's leading watercolourists, Christopher is not afraid to try any and every media. From his calming watercolours to vibrant oils, Christopher takes his viewers through the Island by back roads, to peaceful coves above, rooftops and through the rough seas of a storm."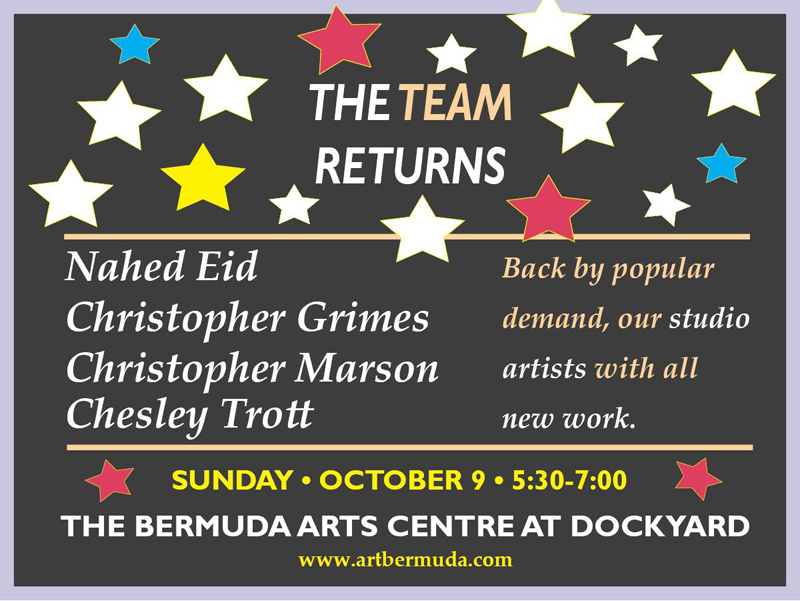 "Christopher Grimes [Oil]. Known for his subject of 'Old Bermuda', Christopher takes us back in time. From the wreck of the Sea Venture, to the building of Hamilton City, his art work leads through the passage of time. Some of the buildings are still standing, but more often than not, a quiet field has now been transformed into a major road way.
"Any Bermuda history buff will certainly be enthralled with his forgotten and beautiful scenes.
"Chesley Trott [Cedar] is our senior resident artist and has been created sculptures in cedar and bronze since our opening of the Arts Centre in 1984. The work found in the studio of resident artist Chesley Trott captures more than just the visual sense.
"It is hard to resist running a hand over the surface of one of his skillfully carved sculptures and one cannot miss the distinctive scent of Bermuda cedar released as he works with this aromatic, native wood.
"Chesley's sculptures are visual expressions of his hopes, dreams, experiences and interests.
He tries to formulate out of wood, bronze and concrete his thoughts and ideas concerning plants, shapes, human bodies and animals that have made an impression on him. Often the essence of that though or idea is expressed in an abstract shape or form.
"After a career teaching art to children Chesley now devotes his time to creating his own artwork. But, his love of teaching means that he makes time to pass on his knowledge and skill through various classes held in his studio."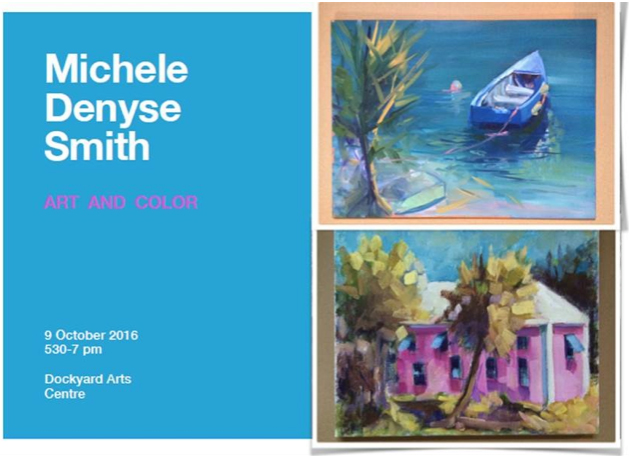 "Michele Smith will be having a solo show opening on the same evening. Michele's show entitled "Art and Colour" is an explosion of colour on the walls. Having no fear of rich, thick brush strokes, this show is vibrant and stunning ! And accomplished artist and interior designer, this show is sure to be a sell out.
"We are advising those who are coming to the opening to arrive earlier than later if they hope to purchase a piece from this show."
"The Gallery is open from 10.00am to 5.00pm every day and is wheel chair accessible, with free admission."

Read More About
Category: All, Entertainment