Bermuda's Earl Cameron is celebrating his 100th birthday today [Aug 8], marking a century in the life of one of the island's most illustrious thespians.
A Voice Online story highlighting the actor said "Veteran Actor Earl Cameron has come a very long way since his first job washing dishes in a hotel after leaving Bermuda for the UK in 1940.
"After a ground-breaking and successful career as an actor, Cameron is about to celebrate his 100th birthday, but says he is still very much available for work.
"The thespian, who celebrates his birthday tomorrow, has appeared in films ranging from the Bond movie Thunderball in 1965 to Inception alongside Leonardo DiCaprio in 2010, broke barriers by becoming the first black actor to have a leading role in a British movie when he starred in Pool of London in 1951.
Earl Cameron [centre], helps to unveil a plaque dedicated to Ira Aldridge. Image credit: University of Warwick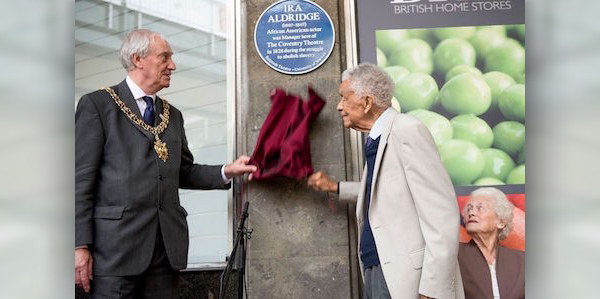 "He plans to celebrate the event with a party at the home in Kenilworth, Warwickshire, he shares with his wife, Barbara.
"Cameron prepared for his big day by helping to unveil a blue plaque commemorating African-American actor and anti-poverty pioneer Ira Aldridge, who was the manager of the Coventry Theatre in 1828. Cameron was given voice training by Aldridge's daughter Amanda.
The veteran actor told the Voice, "It has been a great life and I have absolutely enjoyed my career.
"I broke a certain amount of ground when, as a young black actor, I appeared in Pool of London in 1951. It was unheard of before then, but I was very fortunate even though I had spent about eight years on the stage before then. It was certainly a far cry from when I first came to England during the war and got my first job as a dishwasher in a hotel in 1940."
Cameron still has an agent and remains available for work.
He is proud of the opportunities now available for black actors compared to when he started out some 70 years ago, saying, "There are some excellent black actors in films now, although most of them have to go to Hollywood to be successful. I feel there is still some work to do in this country in terms of more leading roles for black actors. But things have certainly moved on a great deal."
Cameron recounted how it used to be, telling the Guardian, "Unless it was specified that this was a part for a black actor, they would never consider a black actor for the part. And they would never consider changing a white part to a black part.
"So that was my problem. I got mostly small parts, and that was extremely frustrating – not just for me but for other black actors. We had a very hard time getting worthwhile roles."
"I never saw myself as a pioneer," he told the Guardian. "It was only later, looking back, that it occurred to me that I was."
Read More About
Category: All, Entertainment, News