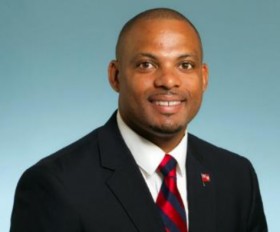 "On the November 25th, the Bermuda Public Services Union [BPSU] joins the rest of the world in support of the UN's International Day for the Elimination of Violence Against Women," BPSU President Jason Hayward said.
"The Declaration on the Elimination of Violence Against Women issued by the UN General Assembly in 1993 defines violence against women as "any act of gender-based violence that results in, or is likely to result in, physical, sexual or psychological harm or suffering to women, including threats of such acts, coercion or arbitrary deprivation of liberty whether occurring in public or in private life".
"The BPSU would like to specifically call for an end to the sexual harassment of women in the world of work. Sexual harassment is a hazard encountered in workplaces across the world that reduces the quality of working life, jeopardises the well-being of women and undermines gender equality.
"Sexual harassment is defined by Bermuda's Human Rights Act 1981 as:
"sexual comment or sexual conduct towards that other which is vexatious and which he knows, or ought reasonably to know, is unwelcome".
"In Bermuda, cases of sexual harassment in the workplace go largely unreported. However, women, far more often than men, are the objects of sexually harassing behaviour.
"The effects of sexual harassment on its victims are well documented. Studies routinely confirm that most are upset by it and that many experience feelings ranging from irritation and nervousness to anger, powerlessness and humiliation.
"At its worst, sexual harassment can make their working lives miserable and even dangerous. Research has shown that victims can eventually become ill when subjected to sexual harassment on a regular basis; particularly where it is perpetrated by a supervisor, involves sexual coercion, or takes place over a long period of time or in a male-dominated setting. It has been found to trigger a wide range of ailments, including stress-related illnesses, high blood pressure and depression.
"As a minimum, there are two [2] main actions that all employers should take to prevent and settle the case of sexual harassment:
1. "Develop, endorse and communicate to all employees a sexual harassment policy within the working environment. This should be disseminated to all employees during recruitment and induction
2. "Take effective and appropriate remedial action if sexual harassment occurs.
"The BPSU has sought to raise awareness, support targeted persons and promote workplaces free of bullying and harassment. Through the Union's educational programs, we have trained Shop Stewards to identify negative behaviours and provided them with the necessary tools to respond to harassment in the workplace.
"The Union also ensures that workplaces have adequate anti-harassment policies. It is important for employees to know their rights and the channels to use in the event of an incident of sexual harassment."
Read More About