After adjusting for the retail sales rate of inflation – measured at 1.6% in April – the overall volume of retail sales increased 0.5% year-over-year, according to the recently released Retail Sales Index.
"Three out of the seven retail sectors recorded growth in sales volume with Liquor Stores recording the largest volume increase of 7.0%," the report said.
"In value terms, retail sales increased 2.2% to an estimated $92.0 million. Excluding Sundays, there were 25 full shopping days, the same as April 2018."
Chart extracted from the report: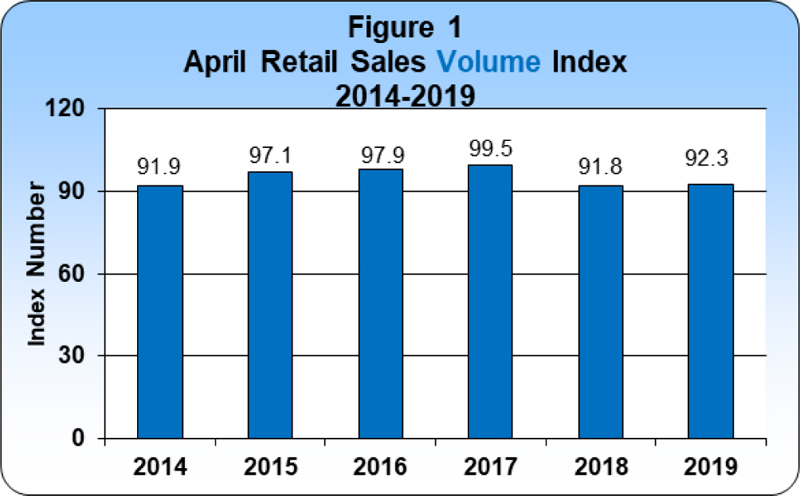 Minister for the Cabinet Office Wayne Furbert explained, "After adjusting for the retail sales rate of inflation, measured at 1.6 per cent in April, the overall volume of local retail sales increased 0.5 per cent.
"Imports via the post office increased $0.1 million. In contrast, imports via courier declined $0.7 million while imports by households via sea declined $0.6 million. Declarations by returning residents via the airport remained unchanged."
Minister Furbert also added, "We are encouraged by the 0.5 per cent increase in the April retail sales numbers, but we recognize that we shouldn't be overly exuberant. We hope that retail sales will continue to increase when compared with previous years. However, we should be mindful that there are varying contributing factors to retail statistics.
"The numbers are affected by such things as the changes in people's buying habits, people purchasing more online, buying second-hand items as opposed to new products, the decreasing purchasing power of an aging population, mortgage rate increase and yes, sometimes Government policies can have an effect.
"This Government has recognized the challenges in the retail sector and has sought to implement solutions to alleviate the hardships, such as reducing the customs duty rate on textiles, which include linen and blankets and shoes.
"Additionally, we reduced payroll tax for retail stores. Ultimately, we can all play a role in aiding our retail sector, simply by utilizing our buying power here at home. By doing that we are not only supporting our retail sector, but we are supporting all of the Bermudians who work in this industry."
The Government said, "Highlighted below are the April 2019 year-over-year changes for each of the seven local retail sectors:
Liquor Stores' sales volume increased 7.0 per cent.
Food Stores' sales volume increased 3.7 per cent.
All Other Store Types' sales volume increased 5.3 per cent.
Service Stations' sales volume declined 1.2 per cent.
Apparel Stores' sales volume declined 3.8 per cent.
Building Material Stores' sales volume declined 7.6 per cent.
Motor Vehicle Stores' sales volume declined 17.1 per cent.
The full 2019 April Retail Sales Index is below [PDF here]:
Read More About