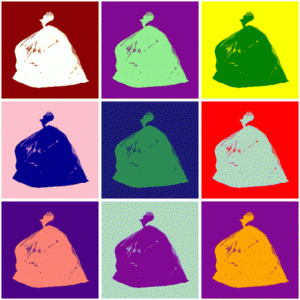 Garbage in, art out. That's what the Bermuda Arts Centre hopes to achieve by encouraging artists to use beachfront trash for a unique found object show aimed at heightening awareness of pollution in the island's waters.
"We are hoping that you might help us make a difference," said an Arts Centre spokesman. "Next Saturday, February 12 we are asking for your support in meeting us at Jobson's Cove to clear the trash.
"Instead of putting the trash into bags to be collected and burned, we are asking that the trash be taken home and a sculpture be made. For any of you that aren't artists, please come along and donate your 'trash' to an artist."
The Astwood Room at the Dockyard gallery will be featuring the "Trash Show" of sculptures made from the clean up, on Sunday March 6, along with the launch of its second Art of Craft exhibit.
In addition, the Department of Environment and Health are requesting that all the "Trashy Sculptures" be displayed at their tent in this year's Annual Exhibition.
"The actual cleaning of Jobson's Cove is not just about the show," said the Arts Centre. "We have documentation forms from the Department of the Environment that will be filled out — a before and after, if you will. It is a survey as to how much plastic is being washed to our shores. Our documentation will be filed with the Department, and this will go into a worldwide survey."
Recently two international environmental groups confirmed the existence of a mid-Atlantic "Garbage Patch" off Bermuda where vast amounts trash — primarily plastics — from the East Coast are accumulating.
"Plastic is the worst garbage we have in our oceans, and there's a whole load of it. We are encouraging you therefore to use as much of it in your sculpture as possible. Let's do our small part to keep Bermuda beautiful and also do our small part towards the earth's environment."
All "Trash Sculptures" must be submitted to the Arts Centre by Thursday, March 3.
Read More About
Category: All, Environment, News