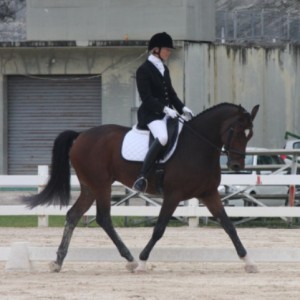 On Saturday, February 26th, Bermuda's equestrians will be participating in the 2011 FEI World Dressage Challenge. This competition is entering its 31st year with an estimated 58 countries participating in 2011.
Last year Bermuda had the distinction of winning both the Group 10 team competition and the individual competition. Dawn Fox achieved the highest score in Group 10, and last year's winning team was Ashley Gibbs on Landtango, Dawn Fox on Lancelot, Suzette Sailsman on Wiriana and Ann Lindroth on After Dark.
Dawn Fox and Lancelot [pictured] will once again be competing this year at a higher level; team riders will be decided at a later date. Bermuda will compete against Group 10 countries Barbados, Trinidad and Tobago, Jamaica, Cayman and Haiti.
For the uninitiated, dressage can be likened to ballet. Such movements as moving sideways with the horse's legs crossing (half pass), skipping (tempi changes) and pirouettes at the canter are the result of years of training and can be seen at this year's event at The National Equestrian Centre.
Internationally experienced FEI Judges travel to the individual geographical regions of the world to judge this competition, and on the day after the competition conduct clinics with the riders, teaching the art of dressage. Each group of countries is judged by the same Ground Jury. Judges Mr. Ricardo Rojas from Costa Rica and Mrs. Janine Rohr from Argentina are currently travelling to the Group 10 competing islands and will make their second last stop in Bermuda.
This year will see the introduction of several major changes with the new FEI Codex for FEI Judges and the widely anticipated half mark scoring.
Bermuda will compete in all five classes of this competition, with Paula George riding at the highest level on her very elegant black mare Wiriana. The competition will take place at the National Equestrian Centre, Vesey Street, Devonshire, and will commence at 11am with the vet check, dressage tests will get underway at 1.00pm. Information on this event and other equestrian activities in Bermuda is available on the Bermuda Equestrian Federation's website www.bef.bm and the Bermuda Dressage Group's website www.bermudadressagegroup.com
Bermuda's horses and riders entered in this year's event are as follows:
Preliminary Level
Dana Adderley on My Hazel
Marvin Ford on Pleasant Surprise
Lindsey George on Adrastos
Ashley Gibbs on Landtango
Jennifer Howard on Escudero
Alison Mitchell on Swarovski
Elementary Level
Abby Bardgett on Simply Ned
Rebecca Carne on Limited Edition
Ashley Gibbs on Landtango
Michael Rodrigues on Southern Eclipse
Medium Level
Abby Bardgett on Simply Ned
Dawn Fox on Lancelot
Michael Rodrigues on Southern Eclipse
Advanced Level
Dawn Fox on Lancelot
Suzette Sailsman on Wiriana
Paula George on Wiriana
The FEI World Dressage Challenge is closely linked to the FEI Coaching Education and Certification System.
(photo courtesy of Tracy Williams)
Read More About