Author of the "Daddy and I Explore" book series, David E. Chapman, was joined by HSBC Bermuda CEO Philip Butterfield, Acting Education Minister Walter Roban, local farmer Gerry Wilmot and Prospect Primary students and teachers this morning [Apr.11], as he handed out copies of his latest book in the series.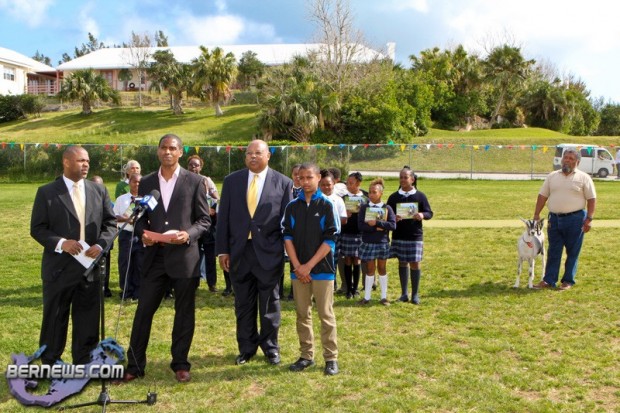 Each book in the "Daddy and I Explore" series focuses on a different natural habitat and not only endeavours to encourage Bermudian children to become involved in the literacy process early on, but also strives to create environmental appreciation within our community's youngest residents. The latest book focuses on farming.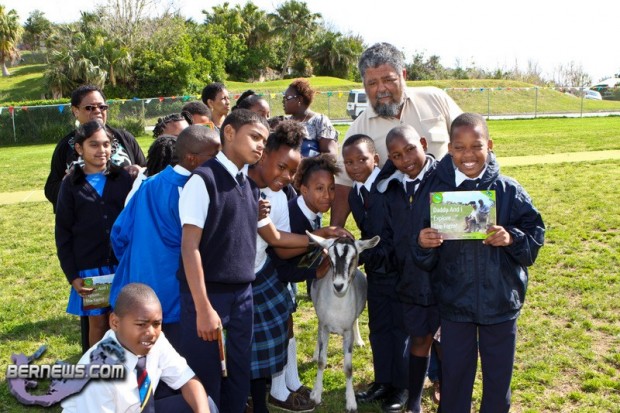 David Chapman said, "The core components of the series is to provide opportunities towards early literacy through a written medium that focuses on developing environmental appreciation and understanding in young people, while at the same time promoting the important social value of parents spending quality time with their children."
"As part of this overall aim, Daddy and I Explore Books has always sought to integrate the books to be used as a resource in the public and private school system in Bermuda so that the opportunity to capture the value of the series was fully available to young Bermudians across the national spectrum. Thanks to HSBC Bermuda we have been able to accomplish this aim and in this year's economic climate I feel the donation capacity allowing schools to gain quality resources without cost becomes even more relevant."
HSBC CEO Phil Butterfield said that HSBC Bermuda is a proud supporter of Mr Chapman's books, and has been since their inception. He said the books allow us to continue the process of learning, and open the opportunity for young people to understand our environment and science. Through the support of HSBC and local schools, the book will be distributed across the island to all schools at the primary four level.
Mr Chapman said the book "seeks to educate and inform local children about the crucial role of farmers, farms and agriculture play in the production of food for our society."
He went on to say that "as with all the books in the series this environmental theme is underpinned by two additional themes – that of promoting early literacy and also encouraging a positive and health interaction between fathers and their children, specifically through the medium of outdoor exploration."
Mr Chapman has a Bachelor of Science degree from Hampton University in Virginia, a Teaching Certificate from Wheelock College, Boston, Massachussetts, and a MSc (Merit) from Royal Holloway University of London, and is presently obtaining his Ph.d. He previously worked at various institutions including the Bermuda College where he lectured in Geography, BELCO as an Environmental Technician and Berkeley Institute as an Environmental Science teacher. The book is available at The Bookmart and The Bermuda Bookstore. For more information visit Daddyandiexplore.com.
Photos by Only the Best, click to enlarge:
Read More About