BELCO, the first ISO 14001 Certified organisation in Bermuda, has successfully completed an external audit of its Environmental Management System (EMS), maintaining certification for another year. As an ISO 14001 Certified company, BELCO has committed to continually improve the performance of its EMS.
Pictured below are the members of BELCO's Environment business centre (left to right): Environmental & Safety Technician Jessica McClure, Senior Environmental Field Technician Shelly Leman, Environmental Officer Wendell Richards, Senior Vice President Michael Daniel, Environmental Engineer Matt Thompson, Senior Environmental Technician Corrinda Liyanage: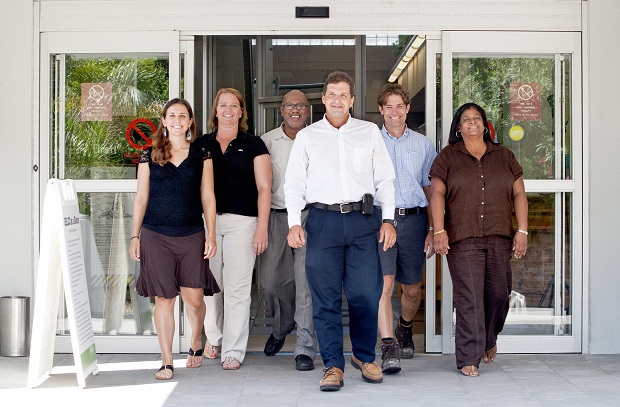 BELCO voluntarily established an EMS in 2009 and earned certification in 2010 by Certech Registration Inc. of Canada. BELCO's EMS must pass another annual surveillance audit in 2012, and then a second registration audit in 2013 to maintain its certification until 2016.
BELCO's EMS enhances the company's ability to anticipate, identify and manage its interactions with the environment and control the impacts of its activities, products and services, including those in its offices, Central Plant and for crews working in the field. The EMS requirements go over and above compliance with Bermuda's environmental laws and regulations.
Read More About
Category: All, Environment