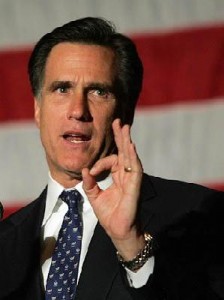 Putative Republican Presidential front-runner Mitt Romney [pictured] used a shell company in Bermuda to help investors in his asset management company avoid paying US taxes, the "Los Angeles Times"  reported earlier this month.
Federal and state records show the former Massachusetts Governor gained no personal tax benefit from the legal operations in Bermuda or from another fund in the Cayman Islands.
"But aides to the Republican presidential hopeful and former colleagues acknowledged that the tax-friendly jurisdictions helped attract billions of additional investment dollars to Romney's former company, Bain Capital, and thus boosted profits for Romney and his partners," reported the newspaper on December 17.
Boston-based Bain Capital is one of the world's leading private, alternative asset management firms whose affiliates manage approximately $66 billion.
Mr. Romney has based his White House bid, in part, on the skills he learned as co-founder and chief of Bain Capital. While his presidential campaign cites his record while governor of Massachusetts of closing state tax loopholes, his involvement with what the "Los Angeles Times" called "foreign tax havens" had not previously been reported.
"In Bermuda, Romney served as president and sole shareholder for four years of Sankaty High Yield Asset Investors Ltd.," said the newspaper. "It funneled money into Bain Capital's Sankaty family of hedge funds, which invest in bonds and other debt issued by corporations, as well as bank loans.
"Like thousands of similar financial entities, Sankaty maintains no office or staff in Bermuda. Its only presence consists of a nameplate at a lawyer's office in downtown Hamilton, capital of the British island territory. 'It's just a mail drop, essentially', said Marc B. Wolpow, who worked with Romney for nine years at Bain Capital and who set up Sankaty Ltd. in October 1997 without ever visiting Bermuda. 'There's no one doing any work down there other than lawyers'."
Investing through what's known as a blocker corporation in Bermuda protects tax-exempt American institutions, such as pension plans, hospitals and university endowments, from paying a 35 percent tax on what the Internal Revenue Service calls "unrelated business income" from domestic hedge funds that invest in debt, experts say.
Kevin Madden, Mr. Romney's campaign spokesman, said there was nothing improper about either the Bermuda arrangement or his investment in the Cayman fund.
"I would disagree that these could be described as tax loopholes," he said. "These are perfectly normal and perfectly legal arrangements that American companies put together to be successful in the market."
Mr. Romney is the wealthiest candidate running for president, with a personal fortune of up to $250 million, according to financial disclosure forms he filed in August.
Mr. Romney was elected Governor of Massachusetts in 2002, but did not seek reelection in 2006.
He ran for the Republican nomination in the 2008 US presidential election, winning several primaries and caucuses, but eventually lost the nomination to John McCain.
Earlier this year he announced that he would seek the 2012 Republican Presidential nomination. Political observers and public opinion polls consistently place him among the front-runners in a race which also includes former Speaker of the House of Representatives Newt Gingrich, maverick Congressman Ron Paul and one-time Utah Governor Jon Huntsman.
Read More About