[Updated with videos] The One Bermuda Alliance today [Jan.26] held a press conference, and confirmed that Bob Richards will represent the party in Constituency #11 Devonshire East at the next General Election.
Devonshire East is presently held by Mr Richards who won — under the UBP's banner — with 51.74% [402-375] of the vote vs the PLP's Neville Tyrell in 2007.
From left to right: Sen Michael Dunkley, OBA supporter Feria Alpha, OBA Leader Craig Cannonier, Bob Richards and wife, Future Bermuda Alliance member Alissa Hayward, OBA Chairman Thad Hollis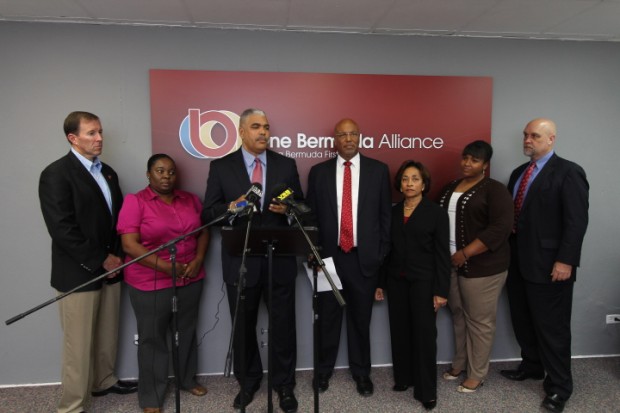 The PLP has already confirmed that former Senator Neville Tyrrell will represent them in Constituency #11, Devonshire East at the next General Election. Mr. Tyrell has contested the constituency for the PLP at the last two elections.
Everard T. (Bob) Richards attended Purvis School the Central School and the Berkeley Institute. His further education gained him a BA in economics from Waterloo Lutheran University in Ontario, Canada and a Bachelor of Commerce and MBA from the University of Windsor, Ontario Canada.
OBA Leader Craig Cannonier and Bob Richards: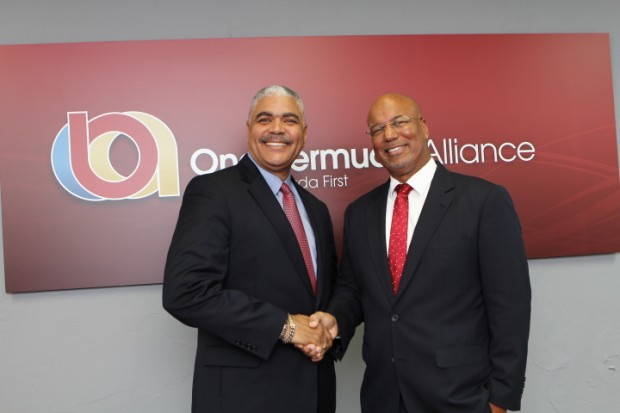 After working with two Canadian banks in Toronto, he returned to Bermuda where he worked at the Bermuda National Bank, Bermuda Monetary Authority, and Shell Trust Bermuda Ltd. In 1987 he founded Bermuda Asset Management Ltd, and he presently serves as President of Bermuda Information Technology Services Ltd.
In 1997 Mr Richards was appointed to the Senate by the United Bermuda Party where he served as Government Leader, and also as Minister of Telecomunications. He was reappointed to the Senate in 2004, and in 2007 Mr Richards was elected a Member of Parliament and since then has served as Shadow Minister of Finance, switching affiliation to the OBA last year.
The Opposition previously confirmed thirteen candidates who will stand at the next election: Ray Charlton in Sandys North [C#36], Toni Spring in Sandys South [C#33], Shawn Crockwell in Southampton West Central [C#31], Jeff Sousa in Warwick West [C#28], Ras Mykkal in Warwick South Central [C#26], Mark Pettingill in Warwick North East [C#25], Jeanne Atherden in Pembroke West [C#19], C. Anthony Francis in Devonshire North Central [C#13], Craig Cannonier in Devonshire South Central [C#12], Sen. Michael Dunkley in Smith's North [C#10], Trevor Moniz in Smith's West [C#9], Sylvan Richards in Hamilton South [C#7], and Gaylynne Cannonier in St David's [C#3].
Update 3.23pm: Video of Part #1 of the press conference, with Mr Cannonier speaking
Update 4.44pm: Video of Part #2 of the press conference, with Mr Richards speaking
Update 6.45pm: OBA Leader Craig Cannonier's remarks are below:
Good afternoon.

Today we resume our candidate roll-outs.

I am pleased to stand here with a man who has always called it like it is and who has always put Bermuda first, Mr. E.T. (Bob) Richards.

Bob will be the One Bermuda Alliance candidate in Devonshire East, Constituency 11, which he has represented for the past four years.

I have got to know Bob quite well over the past year and can say without reservation that he is a steady presence – honest, smart, hard-working and totally committed to building a better Bermuda.

Also with us are two young ladies who said at our caucus meeting on Tuesday that they wanted to stand here today in support of Bob and the OBA.

They are Feria Alpha and Alyssa Hayward – two Bermudian mothers who have been working citizens all their lives and who, in the past year, have seen workplace opportunities dry up.

It's appropriate that Feria and Alyssa are here because the government needs to be reminded that the economy is about people.

It is the engine that makes Bermuda work and, like any engine, you want to make sure it keeps running smoothly so that people can live full and complete lives.

It is a fact that the Government over the past five to seven years has failed to take care of that engine and that people from all walks of life are now paying the price for it.

We see it in job losses. We see it in less money in our wallets to pay for daily needs. We see it in shop closures and the movement of companies to other jurisdictions. We see it in crushing debt payments that lead to cutbacks in public services, support for charities and teacher lay-offs. We see it in a government that now wants more of your money to pay for its excesses.

The One Bermuda Alliance is prepared to fix this situation.
Read More About