Capital G Bank awarded Iron Kids Savings Account prizes to ten of the hundreds of people who entered the draw at their booth during February's 10th Annual Coldwell Banker/Bermuda Realty Home Show.
Visitors to the Capital G Bank booth were invited to learn more about the Iron Kids Savings Account & Debit Card product by entering the draw to win one of ten Iron Kids Savings Account prizes valued at $100 each.
The Home Show took place on Friday, February 17th and Saturday, February 18th at Cedarbridge Academy. Over 3,000 people attended the event to view the vendors' latest product offerings in relation to financing and furnishing a Bermuda home.
Photo shown from left to right: Wesley Hall, Senior Financial Services Representative, Capital G Bank; Andrea Proctor, Senior Loan/Mortgage Officer, Capital G Bank; Sonia Greaves, Supervisor, Financial Services, Capital G Bank; Catherine Durham; student Xae Lahn Smith accompanied by his mother; Stephanie Lovell; Jennifer Southern; Rochelle Smith; student Marcos Furr; Brenda Raynor; Diann White-Lindsay; Adria Russo and Lawrence Fox. Draw prize winner Keisha Clarke was not present.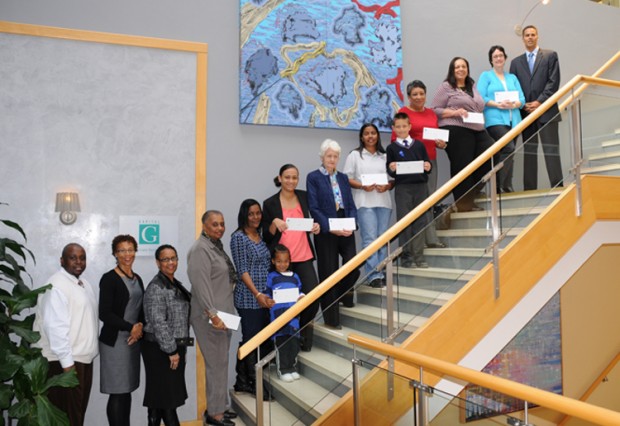 Capital G's Mr. Michael Veale, Head of Personal and Commercial Banking, said the Bank was pleased with the results of their participation in the annual two-day Home Show this year. "Many of the people who visited the Capital G booth took advantage of this opportunity to talk informally to our knowledgeable financial associates about their borrowing and savings plans," he said.
"Our event associates were all experienced representatives of the various divisions of Capital G Bank, from Savings and Deposits to Mortgages and Lending, Business Banking and Card Services. In many cases, they were able to give our visitors immediate answers to their questions and are now following-up on their requests for information on specific Capital G Bank products and services," he said.
The winners of the Capital G Iron Kids Savings Account prizes received their prize from Capital G's Head of Financial Services, Lawrence Fox. The winners were Rochelle Smith of St. George's; Keisha Clarke of Pembroke; Diann White-Lindsay of Warwick: students Marcos Furr of Warwick and Xae Lahn Smith of Pembroke; Jennifer Southern of Paget; Brenda Raynor of Smith's; Stephanie Lovell; Adria Russo of Hamilton Parish and Catherine Durham of Southampton.
The Capital G Bank Iron Kids Savings Account & Debit Card is designed to help young people learn how to balance saving with spending and maintain financial fitness from as early as birth through to their 18th birthday and beyond.
It offers 2% interest on accounts with a minimum balance of $100 and maximum balance of $10K BMD and includes access via the debit card or e-banking and parental oversight of transactions. The debit card has daily ATM and Point Of Sale limits which can be capped to protect the account holder.
Read More About
Category: All