[Updated: The election was between Terry Lister and Marc Bean, with Mr Bean being elected the new Party Leader by a margin of 111 - 35. Derrick Burgess remains the Deputy Leader.]
The Progressive Labour Party is hosting a Special Delegates Conference this evening [Dec 21] to select a new Party Leader following the resignation of former Premier and Party Leader Paula Cox who lost her seat to the OBA's Glen Smith.
The person selected as party leader must be an elected MP. The 17 elected PLP MPs are: Lovitta Foggo, Derrick Burgess, Wayne Furbert, Glenn Blakeney, Walter Roban, Michael Weeks, Walton Brown, David Burt, Rolfe Commissiong, Lawrence Scott, Marc Bean, Zane DeSilva, Randy Horton, Terry Lister, Kim Wilson, Dennis Lister and Michael Scott.
Slideshow of people entering the meeting, click bottom on the right side to move to next photo:
The last time the PLP voted in a new leader was in October 2010. Three MPs put themselves forward, and Paula Cox won with 124 votes, Terry Lister received 39, and Dale Butler finished with two votes.
The room appears to be packed, the car park is full of cars, and the 'whos who' of the PLP could be seen entering the building. Lawyer and PLP supporter Marc Daniels was handing out a flyer to those who entered detailing attributes a leader should have. To read it click here.
The conference is open to delegates only, however we will update with the results as able.
Update 7.39pm: From what we have been able to ascertain, Terry Lister and Marc Bean are the two MPs who are in the running. Kim Wilson, Walton Brown, Walter Roban, Rolfe Commissiong and Derek Burgess all appeared to have been nominated, but appeared to have declined. The conference is still underway, right now there are speakers addressing the attendees.
Update 8.01pm: Marc Bean is now speaking
Update 8.13pm: Marc Bean has finished speaking….he got a very good reaction…with a lot of the people in the room giving him a standing ovation. Mr Lister is making his way to the front area to begin speaking
Update 8.20pm: Mr Lister has finished speaking, the crowd's reaction did not seem as enthusiastic as it was to Mr Bean's speech.
Update 9.01pm: They appear to be counting votes now. From the vague gist we are able to obtain it appears like Mr Bean may be ahead at this time, but the vote count is not finished.
Update 9.05pm: At last check Mr Bean continued to lead in the voting, we are awaiting confirmation on the results now
Update 9.16pm: Marc Bean has been elected the new PLP leader, winning by a commanding margin.
Mr Bean was appointed to the Senate in 2008, and was elected to the House of Assembly in 2010 in the Warwick South Central by-election. He was appointed as Minister of Environment, Planning and Infrastructure Strategy in November 2011, and served in that capacity until the December 2012 election.
A qualified air traffic control specialist, he has held a FAA commercial pilot's license, with multi-engine, and instrument ratings. He has served on the Bermuda Independence Commission, the Telecommunications Commission, the Public Transportation Board, The Public Vehicle Service Licensing Board, the Air Transport Licensing Board, and as the Deputy-Chairman of WEDCO.
Update 10.11pm: The vote was 111 to 35. Mr Bean is pictured below after tonight's convention with his wife and Deputy Leader Derrick Burgess.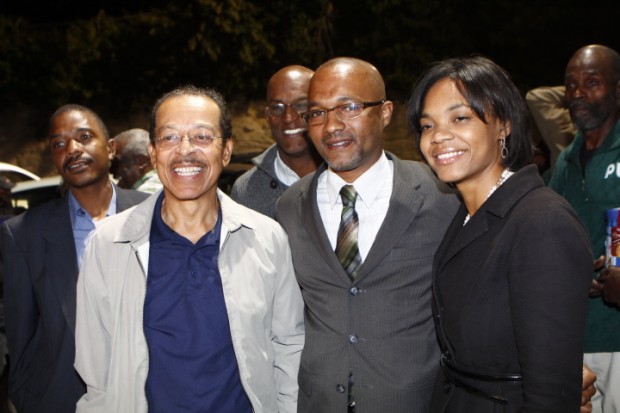 Update 10.58pm: Speaking after the Conference, Mr Bean said the PLP will be rebuilding the party, will focus on being a strong Opposition, and will conduct themselves as a Government-in-waiting. The new Opposition Leader also noted that just as they have 17 seats so they aren't going to "stop or block legislation for the sake of it."
"Historically it has been said if we are pro labour we must be anti-business," said Mr Bean "That concept has to change. It's clear that without risk takers, without business persons, you cannot create employment."
Speaking on race, Mr Bean said: "Our approach that is going to be different in that we are going to take a higher ground. The narrative on race that has permeated Bermuda for the last several decades…we are going to take the lead and take that narrative to a higher level.
"It's no need for racists in this country. It's no need for race baiting in the country. I think a man respects you when you respect yourself. It is better to compete and co-operate than to complain."
"That will be our focus going forward. We are not going to be pointing finger at people, and we are not going to be playing the victim…as if someone else is their oppressors."
"Obviously we are going to be conscious of the fact we still have racist attitudes in the country. But those attitudes are best ignored, and the focus should be on the higher and finer things that connect us as a people."
"Race right now is somewhat in a box," said Mr Bean. "In the end, we are all Bermudians…"
Update 11.27pm: BIU President Chris Furbert was at the Conference, and speaking afterwards he said he thinks Mr Bean has the energy the party needs.
Update Dec 22: A statement from the PLP said: "At the Progressive Labour Party Special Delegates Conference, Mr. Marc Bean was selected as the Party's new Leader. Mr. Bean, the Member of Parliament for Constituency 26, Warwick South Central, defeated Mr. Terry Lister for the Leadership position. The position of Deputy Leader will continue to be held by Mr. Derrick Burgess."
Read More About