Strive for your goals, stay away from gangs, and keep on a positive path was the message delivered by Jamaican reggae artists Luciano and Mikey General during their visit with CedarBridge Academy students yesterday afternoon [Feb 1].
Both artists are due to perform at tonight's 'Veterans in Action' concert at BAA, and took time out of their schedule to visit the high school and deliver a motivational presentation to the students.
Luciano pictured alongside CedarBridge students: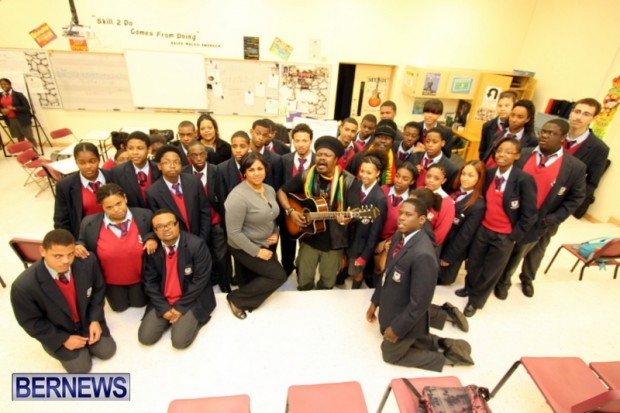 Both Mikey General and Luciano rose to prominence in the mid-1990s and have a slew of hit songs including 'Who Could It Be' and 'Its Me Again Jah.' Both artists are devout Rastafarians, and often tour and perform together.
They sang a few songs, and spoke to the students about having goals in life, being careful of the company they keep and valuing education. Some of the students described the experience as "uplifting," while Luciano and Mikey General said it was a pleasure to deal with the students.
Luciano & Mikey General perform at Cedarbridge:
"We don't want them to make the same blunders others have, and want to tell them don't get caught up with the wrong company," said Luciano. "Choose the right role models. Too many times I see many great youths go down the drain."
Luciano said, "We want to make sure we leave with a positive message, especially for the youngsters. Tell them don't get caught up in all this gang war, all this guns,all these drugs and all these kind of things. It's not good.
Luciano & Mikey General's message for the students: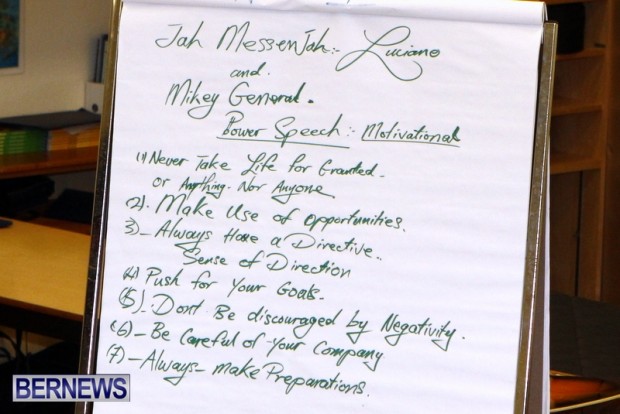 "I know Bermuda is a nice place, always had good memory of Bermuda," said Luciano. "Clean air, wonderful environment, so we don't want to spoil that. Want to encourage the youths to stay on a positive path."
Mikey General said, "We are here to encourage the youths, tell them to love themselves, love each other and love the Most High more than anything else."
It is understood the reggae artists also visited a family who recently lost a loved one to gun violence.
It is the fifth time the singers have visited Bermuda, and Mikey General said, "The love we get from the Bermudian people has always been great."
Luciano and Mikey General speak with Bernews:
Speaking about tonight's show, Luciano said, "There is no doubt we will give them a good proper show. Will be vibes and great energy. Vibes are pumping up already," while Mikey General said, "It will be very good…it will be bouncing, people will feel good."
The two artists will be performing at this evening's 'Veterans In Action' Bob Marley tribute concert at the BAA gym, with Luciano set to perform a live acoustical "unplugged" set.
The night will also feature live Bob Marley renditions from local artists including Shorta Ranks, Junior C, Shine Hayward and more. Tickets are priced at $35 in advance.
The last 'Veterans In Action' reggae concert was held in November 2012, and featured Jamaican reggae artists Admiral Bailey and Pinchers, as well as a host of local artists.
Click to enlarge photos:
Read More About