This year's Bermuda National Trust Palm Sunday Walk will explore beautiful Devonshire Parish on Sunday [Mar 24]. The walk will start from Elliot Primary School at 2.00pm, no later than 3.15pm.
The route is about five miles and should take approximately two hours to walk. A spokesperson said, "We encourage all locals and visitors to come and participate in this great community event. All are welcome and there is no charge for participation, although donations would be greatly appreciated.
"As with previous walks, the route will take participants to places that the public rarely get to explore and a map will highlight some points of cultural interest along the way.
"This year's walk will travel through Bermuda's largest marsh, beside arable land that has been farmed for centuries and along Devonshire's wild and visually stunning southern coast. Walkers will see familiar views from new vantage points and discover hidden treasures of Devonshire's nature reserves, woodlands and farmlands."
Walkers trek across the beach during a previous Palm Sunday Walk: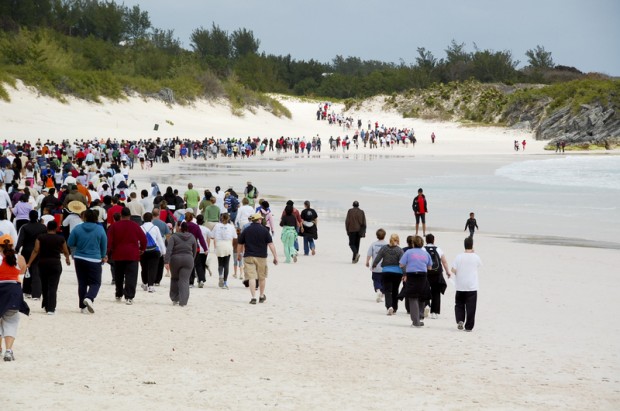 Participants are advised to wear sensible shoes and to note that the route is not suitable for strollers or dogs. Road-users on Middle Road, Vesey Street, Barker's Hill and South Road in Devonshire on March 24 are asked to use care, as walkers will be on the road for most of the afternoon.
"The Bermuda National Trust is extremely grateful to all the landowners who make this event possible. We are also thankful for the tremendous support of the Argus Group, the Bermuda Police Service, St. John Ambulance and John Barritt & Son Ltd", the spokesperson added.
Alison Hill, Chief Executive Officer, the Argus Group, says: "We are delighted to once again be supporting this event that grants unique access to some of Bermuda's otherwise seldom seen beauty spots. The Bermuda National Trust has an important role to play in preserving the island's physical and cultural heritage for the enjoyment of future generations.
"It is appropriate for Argus, as a local company with a long history, to partner with the Trust on working towards that mission. We encourage everyone to take part and get some exercise while enjoying the scenery that makes Bermuda so special."
For further information, contact David Outerbridge at 236-6486 x 224 or by emailing David Outerbridge at davido@bnt.bm.
Read More About
Category: All, Environment