A number of the 300-plus passengers aboard a British charter flight which had to divert to Bermuda last month after a small fire broke out in its cabin are taking legal action against UK vacation company Thomas Cook.
Sheffield's "Star" newspaper reports today that Doncaster couple Danny and Liselle McEwan are among the passengers seeking legal advice.
They plan to sue the holiday company, claiming the incident left Mrs. McEwan with carbon monoxide poisoning.
"It was an absolutely terrifying experience," she told the newspaper. "About 40 minutes after take-off the seat TVs started crackling and there was a strange smell … I was terrified the aircraft was going to burst into flames and plunge into the Atlantic.
The Thomas Cook flight after it landed at L.F. Wade International Airport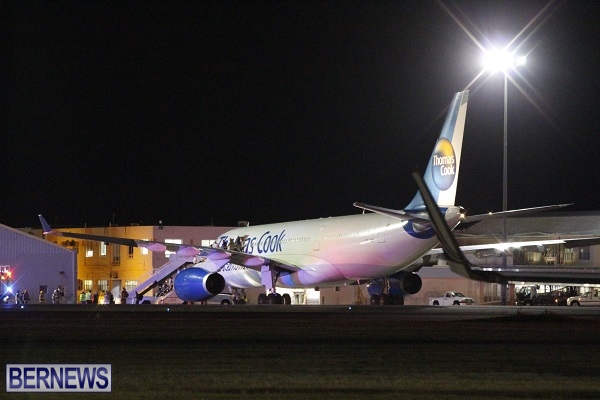 "It was obvious there were many other passengers who were also terrified and suffering from inhaling the smoke. Although the smoke kept coming out for a while there were no oxygen masks, and after we were evacuated I almost collapsed and had to be treated by paramedics."
The couple, who had been celebrating their fifth wedding anniversary, were later told there had been an electrical fire in the in-flight entertainment system.
UK law firm Irwin Mitchell is now taking action on behalf of some passengers of the May 1 Airbus A330 flight.
Read More About