Shadow Transport Minister Lawrence Scott has "respectfully suggested" that Minister Shawn Crockwell "research the information and check the facts before replying…"
Mr Scott was speaking after an exchange in the House of Assembly on Friday, which saw Tourism & Transport Minister Shawn Crockwell say the Millennium ferry boat was already in Bermuda, and refute Mr Scott's suggestion it was not on the island.
The boat — which which was chartered from overseas at a cost of $1.2m — did not actually arrive until two days later. It is pictured below in St George's yesterday afternoon.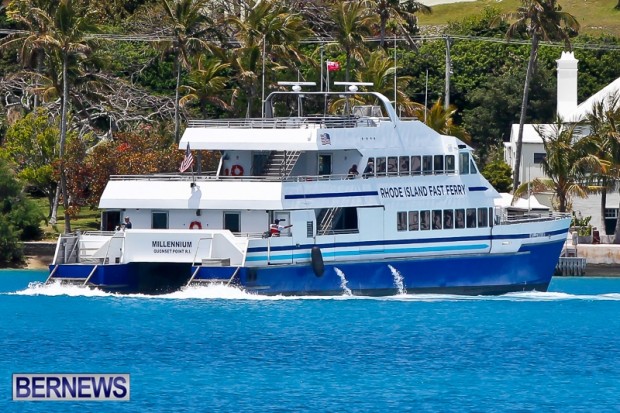 The Minister admitted the error, saying he "erroneously stated" that the Millennium had already arrived as he "was advised by my technical officer earlier in the week that the ferry would be on Island by Friday."
"I apologise for this honest mistake. However, I am thrilled the Millennium has arrived and look forward to the vessel entering service very shortly to assist our local fleet for the summer season," said Minister Crockwell.
Speaking this morning, Mr Scott said that he was "pleased to receive the news" that Minister for Tourism, and Transport Shawn Crockwell had "stepped forward and confessed that indeed he had mislead both the members of the House of Assembly and public last Friday, when he had declared that the contract ferry Millennium was in Bermuda; although, in fact, it was not in the island and did not arrive until two days later."
Mr. Scott said that it is "ironic that the Minister provided the House with the key to good and sound governance when he stood boldly on the floor of Parliament, interrupting me, as I spoke 'On The Motion To Adjourn' and demanded that I do my research and get the facts before I speak; if only the Minister had at first addressed 'The Man In The Mirror' he would have avoided his current embarrassment."
"However, it is helpful that the Minister has cleared the air; because now the public need to know if the Millennium is here only for the summer contract work or a trial run. Because unless it is a coincidence, it is stated in the media reportedly that the more than ten year old boat has a 'For Sale' sign on it."
The Shadow Minister concluded by saying that he "respectfully suggest that the Honourable and Learned Minister research the information and check the facts before replying this time."
Read More About