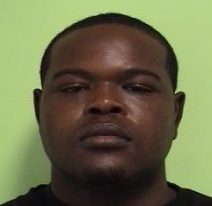 In this morning's [May 1] Supreme Court Arraignment session, Wolde Gardner denied killing Malcolm Augustus, while Darrion Simons and Jahkeo LeShore denied the murder of David Clarke.
Wolde Gardner [pictured] pleaded not guilty to the premeditated murder of Malcolm Augustus and to using a firearm to commit murder. Mr Augustus, 20, was shot and killed on the St George's golf course just after midnight on Christmas Day last year.
Crown Counsel Carrington Mahoney told Justice Greaves that in connection with the charges against Gardner, another man had been arrested in the UK and that the Crown was seeking to extradite this person to Bermuda. The police have previously identified the individual as a 28-year-old St. George's man.
Mr Mahoney said that the extradition hearing in the UK was scheduled for today and that the case against Gardner would proceed once this man was in Bermuda and further local investigations had concluded.
Gardner is already in custody and was ordered to be kept in custody until the next Arraignments Session on 3rd June.
Also appearing was Darrion Simons [19] and Jahkeo LeShore [31] who pleaded not guilty to the premeditated murder of David Clarke and of using a firearm to commit that murder. Mr Clarke was shot and killed while riding his motorcycle on North Shore Road on 17 April 2011.
Both men will remain in custody and re-appear for mention on 3rd June when a trial date will be set.
Read More About
Category: All, Court Reports, Crime, News