[Updated with video] Members of visiting Native American groups made their way to City Hall today [June 21] in advance of this weekend's Pow Wow in St David's.
Bermudians and their Native American cousins will hold "A Celebration of Our Ancestors" this weekend, paying tribute to the origins of their centuries-old bloodline.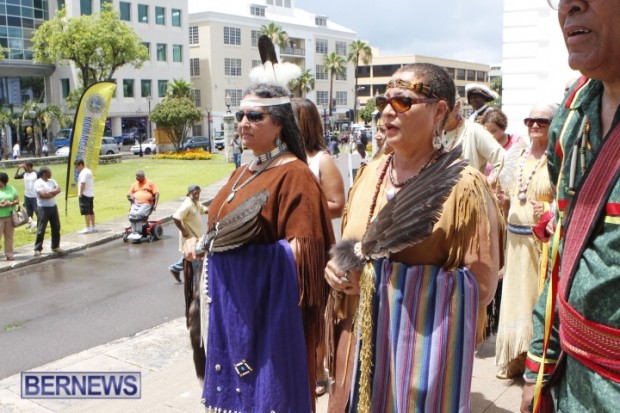 The St. David's Islanders & Native Community will host the 2013 Bermuda Pow Wow on June 22 and June 23 from 11 a.m. to 5 p.m. each day at St. David's Cricket Club grounds.
Ties between New England Native American tribes and their compatriots in Bermuda first began to be celebrated at Reconnection Festivals in 2002.
The entry fee for adults is $8 and for $4 for children, and the Pow Wow will include the grand entry; libation and dedication ceremony; local and overseas Native American dancers, songs and drums; Bermuda Gombeys; craft and artwork stalls, traditional St. David's food.
Click to enlarge photos:
Read More About