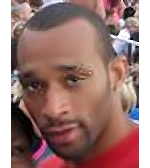 Hours after he was captured by police, Howard Ascento appeared in Magistrates Court and pleaded guilty to escaping lawful custody and assaulting a Security Guard.
The 25 year old was captured at around 8am this morning [Sept 25] after a joint Bermuda Police Service and Department of Corrections team executed a search warrant at a Spring Hill, Warwick residence.
The Court heard that he climbed onto the roof of the Warwick residence, with the Police climbing up after him.
Ascento initially appeared in Court on September 6th, where he pleaded guilty to offences including having no drivers licence, no third party insurance, riding an unlicensed motorcycle, and riding whilst disqualified.
Seconds after Senior Magistrate Archie Warner handed him a ten day prison sentence, Ascento dashed from the Courtroom, and remained at large until this morning.
In Court this morning, Magistrate Khamisi Tokunbo sentenced him to three months each on the escape and assault charges, but these are to concurrently. He was also sentenced to an additional 30 days for another driving while qualified charge.
The three month sentence, and the 30 day sentence, is to run consecutively to the original ten day sentence, meaning his sentence is a total of four months and ten days.
In what tends not to be normal procedure for most defendants in Court, Ascento was in handcuffs throughout the hearing.
Speaking from the dock, Ascento told the Court, "I'm really sorry. I was just scared. I've never been to prison before."
Read More About
Category: All, Court Reports, Crime, News