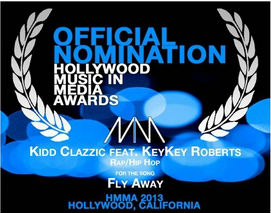 Teenage Bermudian artist Kidd Clazzic [real name Jahroy Richards] is seeking additional support as he prepares to attend the 2013 Hollywood Music in Media Awards in Hollywood, California in the hopes of claiming an award himself.
Kid Clazzic received an official nomination in the Rap/Hip Hop Category for his single "Fly Away", which features fellow Bermudian artist, 17-year-old singer KeKe Roberts [real name Chiante' Roberts]. The track was produced by Craig Simons of IVibes Productions, who won the 2012 HMMA for Best Rap/Hip Hop for the single "Go Slow", with ill Logical Linguistics.
The awards ceremony takes place in mid-November and Jahroy is excited at the opportunity to attend the red-carpet style awards show honoring the music of visual mediums, as well as the music of independent music artists, and the professionals responsible for placing music in visual mediums. He is the youngest Bermudian to be nominated for this type of award, and only the third Bermuda artist ever to be nominated.
If you would like to donate or support Kidd Clazzic as he ventures to Los Angeles to experience this once in a lifetime event, please contact his management team by email at playlistmanagement@gmail.com or via telephone at 532-7623.
You can listen to "Fly Away," the song that earned Kid Clazzic his nomination, via the video below:
Read More About
Category: All, Entertainment, Music