Minister of Finance Bob Richards yesterday [Nov 25] signed the UK FATCA Intergovernmental Model 2 Agreement, "IGA Model 2" with the United Kingdom. Signing on behalf of the UK was the Secretary to the Exchequer, the Hon. David Gauke.
Minister Richards said, "The signing of IGA Model 2 is in keeping with the Government's international tax strategy which is to demonstrate our commitment to tax transparency and automatic exchange of information and ensure Bermuda's reputation as the premier international financial jurisdiction in which to do business."
Minister Richards with Secretary to the Exchequer, the Honourable David Gauk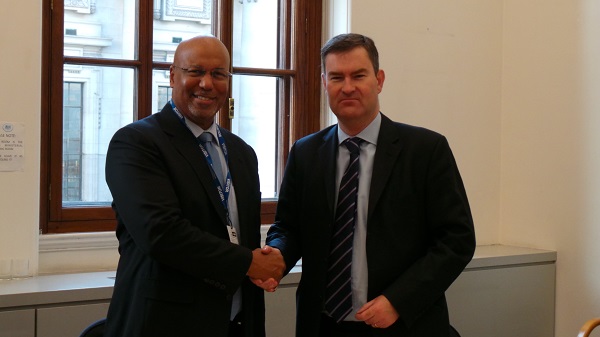 The Ministry said, "The significance of choosing IGA Model 2 versus IGA Model 1 means all Bermuda's financial institutions must identify all UK residents with interests in Bermuda and automatically report them to HM Treasury on an annual basis. HM Treasury will receive the information on those residents in bulk form and will be able to issue group requests for information in relation to recalcitrant clients of Bermuda financial institutions.
"Recalcitrant clients are persons who refuse consent to allow the financial institution to automatically share their information. Additionally, where HM Treasury initiate investigations on a person with respect to possible tax evasion, a request for information can be made under the UK – Bermuda Tax Information Exchange Agreement.
"Utilizing this method of automatic exchange of information guarantees the rights, safeguards, and confidentiality of the information received in regards to those persons."
Read More About