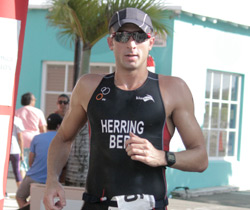 Jonathan Herring and Belinda Castree are the 2013 Bank of Bermuda Foundation Triathlon champions after racing to victory this morning [Nov 3].
Herring was second out of the water clocking a time of 11.28, before recording the fastest bike time of 43.21 and then the fastest run time of 43.56 to clock an overall time of 1:03.22.
Evan Naude finished second after fifteen year old Tyler Smith was given a 1 minute Penalty, Naude clocked a time of 1:04.29. Smith was third clocking an overall time of 1:05.29.
Castree was third overall out of the water in a time of 12.03, she then clocked a time of 46.09 on the bike course before completing the run course in a time of 46.50 to finish 11th overall with a time of 1:13.05.
Laurie Orchard was the next female finisher she finished 12th overall clocking a time of 1:14.22, and  Heather Cooper rounded out the top three female finishers when she crossed the line 14th overall with a time of 1:15.20.
The team of swimmer Graham Smith, cyclist Mark Robinson and runner Chris Estwanik calling themselves Too Big To Fail was first to cross the line they clocked a time of 56:58, with Mr Estwanik was making a return to competitive sports after more than five months off with a knee injury.
The full results, courtesy of Bermuda Timing, follow below [PDF here]
Read More About