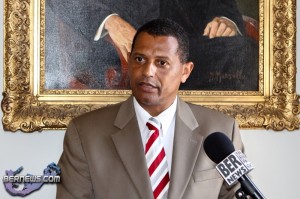 Former Opposition Leader and now golf professional Kim Swan has penned an article for Elysium Magazine, a United Kingdom-based publication aimed at men with luxury lifestyles, hailing two British golf greats: Archie Compston [1893 – 1962] and Dai Rees CBE [1913 – 1983].
The article tells the tale of the golf careers of both men, and how their excellence within the sport was so profoundly influenced by Bermudian golf culture.
Of Bermuda's golf history, Swan writes, "The island of Bermuda is a British Overseas Territory – steeped in history and traditional charm that attracted many great players, but through the presence of these two great players many islanders and our visitors learned the fundamentals of the game, especially the art of the wind shot and the importance of practice, being focused, being positive and confident at all cost.
"With London only a six hour flight to paradise to enjoy sun, fun and golf – Bermuda became a popular place for a winter respite. It clearly helped our tourism develop aided by the popularity of the game of golf together with the popularity and stature of these two great British Ryder Cup stars and their American counterparts who also played golf in Bermuda."
Mr. Swan's deep connection to golf on the island allows him to convey a great deal of insight, including that gleaned from Dai Reese through personal coaching. That insight translates into an interesting history of golf in Bermuda and an overview of the skills needed to be successful in the sport.
The article closes with Mr. Swan inviting aspiring golfers to bring their game to Bermuda, saying, "We invite golfers to visit Bermuda and put their golf skills to the test, particularly as our coastal golf courses lend themselves favourably to the accomplished golfer who frequents links golf on the great links golf courses of Great Britain and in Ireland."
Read More About