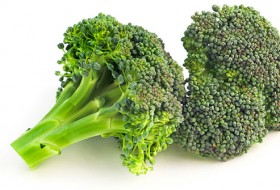 Appearing in Magistrates Court this morning [Jan 30] a 39 year old man was sentenced to 30 days in prison after admitting stealing almost 10lbs of broccoli from a farm in Southampton.
Vernon Symonds thanked Senior Magistrate Archie Warner for sending him to jail, saying: "Thank you. I'm glad this happened. I asked you last week to send me to jail for 30 days."
This end of trial exchange followed Symonds admission of cutting and stealing almost 10 lbs of fresh broccoli from a farm in Hog Bay park in Southampton earlier this month. The broccoli was said to be valued at $23.
Crown Prosecutor Susan Mulligan told the Senior Magistrate that Symonds harvesting action was seen by a farm hand who had the presence of mind to capture Symonds action on his cellphone and then call police.
Later that day, police picked up Symonds on another matter and, when his bag was searched, they found a plentitude of broccoli. Further investigation turned up the farm hands complaint and pictures and Symond was soon identified.
Speaking to the Magistrate, Symonds said that he was, "Glad I got caught. Now I can get some help. Financial Assistance is no help. I went to BARC to get help for my heroin use."
Symonds explained that he had been turned down for treatment at a recently opened treatment centre. He also told the Magistrate that, "I didn't steal it. I took it. There is a difference."
Symonds responded, "I see people who come to Court and get help. I see people come out of jail for murder and get a job. I need help. What am I supposed to do?"
Before passing sentence, the Magistrate said that struggling farmers in Bermuda complain of this as it is affecting their livelihoods. He then sentenced Symonds to 30 days in jail to be followed by two years probation.
Read More About
Category: All, Court Reports, Crime, News