The Supreme Court trial of Cervio Cox and Devon Hewey came to an end this evening, with the jury unable to reach a verdict on an attempted murder charge related to a 2012 shooting in Hamilton.
The jury went started deliberating at about noon today [Mar 20], and initially returned having found the two men not guilty of the attempted murder of one man.
They went back to deliberate on the second attempted murder charge, and at around 7pm the jury said they were unable to reach a verdict on that count.
Both Cox and Hewey have been remanded into custody, and are set to reappear at the April Supreme Court Monthly Arraignment Session.
The defendants leaving Court this evening | Hewey on the right in the white shirt, Cox on left: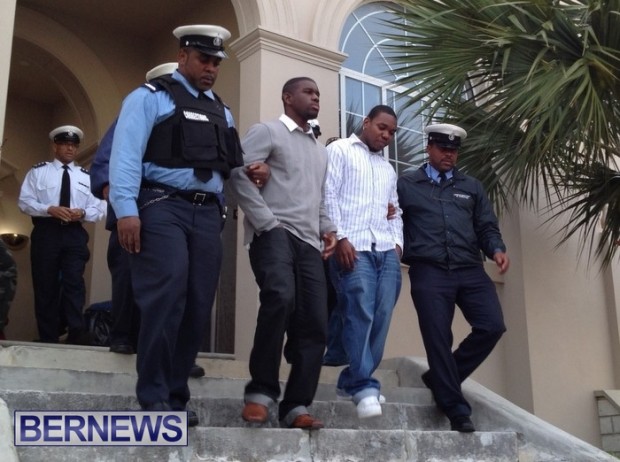 They stood accused of attempting to murder Lavon Thomas and Darren Thompson in 2012, and were also accused of using a firearm to commit the offence.
The shooting occurred around 3:45am on Saturday, March 24th on Reid Street Extension in the City of Hamilton, and while no one was injured the incident resulted in shots being fired into the windows of Sir John Swan's Seon Place office building.
The Court heard the shooting was followed by a high speed police chase that ended with the bike being ditched in grounds of the Botanical Gardens and the two suspects escaping on foot.
Their Supreme Court trial began in January this year and has lasted just over eight weeks. A third defendant, Julian Washington, was previously acquitted.
Read More About
Category: All, Court Reports, Crime, News