Student Matthew Coelho has just completed his co‐op internship at the Dalhousie Risk Analytics Lab in Halifax, Nova Scotia, co‐sponsored by The Bermuda Foundation For Insurance Studies and Nova Ltd.
Mr. Coelho graduated from Mount Saint Agnes Academy in 2010 and is currently pursuing a Bachelor of Informatics degree majoring in Software Systems at Dalhousie University. Informatics is a blending of traditional computer science studies with an emphasis on real world experience, project management and communication skills.
In thanking BFIS and Nova, he said, "Working in the lab gave me a first hand experience with the re/insurance process and also let me get my hands on some next‐gen and bleeding edge technologies that I would not have had the opportunity to utilize as an undergraduate computer science student. This internship experience also gave me a first step into the world of Big Data which is an emerging tool that businesses are starting to utilize.
"Without this experience I would not have had the opportunity to get this introduction nor would have I been able to gain some new skills and experience in the computer science field."
Left to right: Michael Fisher, Matthew Coelho and Sandra DeSilva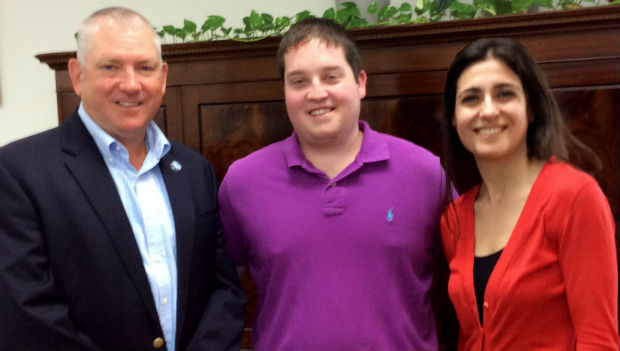 "During the internship, Mr. Coelho co‐authored a paper with the Director of the Dalhousie University Risk Analytics Lab, Dr. Rau‐Chaplin titled, 'eXsight: An Analytical Framework for Quantifying Financial Loss in the Aftermath of Catastrophic Events'.
Michael Fisher, BFIS Chairman said, "We had already been in contact with Dr. Rau‐Chaplin [through one of our BFIS alumns who was working for him] regarding the possibility of summer internships for computer science students, so this gives us the opportunity to see how their programmes work. We are delighted to sponsor Matthew as we feel his work is highly relevant to the insurance sector."
Sandra De‐Silva, Managing Director and Chief Software Architect of Nova said, "Matthew has worked at Nova for the past two summers and is a very impressive young man, and Nova is proud to be a co‐sponsor of his final internship."
Read More About