[Written by Laurie Fullerton]
Searching for breeze and pressure on the race course was a game of snakes and ladders for young competitors at the Renaissance Re Junior Gold Cup today. While grappling with the need for patience and consistency – two requirements for sailing well in light air – many sailors were tested during the third day of racing on Bermuda's Great Sound.
"It was light wind sailing and I like light wind," said Hayden Sewell of Great Britain who finished strongly yesterday [Oct 25] and is currently in sixth place. "I was really looking hard for the wind pressure and I feel like I sailed well."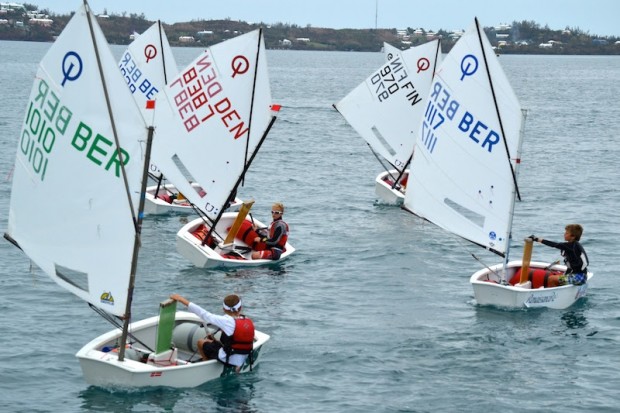 First and second place did not change after nine races with Christian Spodsberg of Denmark in first place with 32 points, Bermudian Adam Larson in second with 42 points while Joao Emilio Vasconcellos of Brazil is in third place with 46 points, followed by Rocco Falcone of Antigua with 47 points.
"With the one discard system it puts pressure on the kids and it was good to see that out there today," said Royal Bermuda Yacht Club coach Tom Herbert-Evans. "It was good to see a mix of younger sailors on the board but we also saw our visiting Brazilian sailor, who is very tall, sailing incredibly well in this light air. I think that those that relied on tactical strategy and kept their head out of the boat sailed well. Because there was no chop, the flat seas meant that weight was not such a factor. It really was a lot about strategy today."
Since arriving in Bermuda, many of the international sailors have now experienced strong winds on the Sound and light and shifty air that mean conditions yesterday  were particularly frustrating.
"The shifts were appearing out of nowhere as if they were here and they were there," said Julia Szmit of Poland who is currently in 11th place. Payton Thompson of the USA, who is the top girl in the regatta agreed that "the air was light and unpredictable today" but overall says she is having a great regatta. "I love it here in Bermuda," Thompson said.
Mateo DiBlasi of the US Virgin Islands is currently in 12th place and said that "light air is not my favorite but I think I did OK today." And for Canadian Theodora Horangic who is in 19th place, she said that "I feel like I have been sailing OK and I think I have been pushing the line a bit but I am really looking at this as a great learning experience."
Young Bermudians who are nine or ten years old and not always at the top of the fleet are also gaining experience and appreciation for the sport. Bermudian Micah Thomas was the second sailor across the line in the eighth race of the regatta, while Rian Geraghty-McDonnell placed 10th in the ninth race.
For Leyli Walker, who is in 27th place and now participating in her second Renaissance Re Junior Gold Cup, she says that "the first race was fine and I did struggle a bit today with the light wind but it is going well." Nine-year-old Fiachra McDonnell, who is in 31st place, is measuring his performance shift by shift and enjoying it. "The first race I did well and I got a nice shift and passed a lot of boats. Then, I may have gone around the wrong mark so I lost some boats."
For Campbell Patton, his performance at this year's Renaissance Re Junior Gold Cup emphasizes his stamina as a sailor particularly in the bigger breezes and his knack for strategic sailing, but he has also been beset by a few OCS penalties. "My regatta today started off great but I was over early in the second race," he said. "Yesterday, I really just felt better and better in the afternoon. I really love the big breeze."
"Every single regatta is a stepping stone," said Somers Cooper, regatta director. "When you step into a boat and go out on the race course, you always return having learned something new and improved as a sailor."
The final day of the Renaissance Re Junior Gold Cup will be during the halftime of the Argo Group Gold Cup finals this afternoon.
Read More About