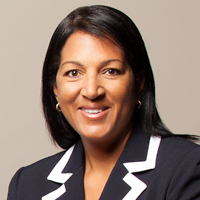 [Opinion column written by OBA MP Susan Jackson]
Many people have commented on how well Bermuda has done in the aftermath of our two recent storms.
Part of the reason for that was how well we have all prepared for the hurricane season in general and Gonzalo in particular, and part of it has been the good leadership of the Emergency Measures Organisation, chaired by the Premier of Bermuda, Michael Dunkley.
But all of that wouldn't have mattered if it had not been for the extraordinary determination of Bermuda's service providers to get the roads cleared, the lights back on and communications working again.
The men and women who have been putting us back together again do it because it's their job, sure, but their dedication and selflessness define who we are in Bermuda. This is the glue that binds us together as one big family whenever there is a crisis.
Progressive Labour Party Leader Mark Bean and his Shadow National Security Minister, Walter Roban, called it, "the Bermudian Spirit in full display".
Many groups and individuals have been involved in the post-hurricane work, and I'd like to add my personal thanks to all of them for covering our backs so well.
And I would like to single out three organisations that I don't believe others have yet mentioned. The first is the weather service, which not only did an excellent job in prediction, but went out of its way to keep us and concerned loved ones abroad, up to-date and with updates that were easy to understand.
Hurricane Gonzalo video compilation:
The second is the Government's Department of Communications and Information, which kept releasing much- needed information, non-stop since Fay.
And the third is Bernews – which I think of as the little news organisation that could… and did… and does… every day… really well. It's rapidly becoming a vital fixture on the Bermuda scene.
I would also like to make an observation about the effect of the storms that perhaps few people have realised – and that is the way our local economy has been given a boost by the damage. It won't be the big stimulus that Bob Richards dreams about, but many of our unemployed and underemployed will find work repairing the damage that we have suffered.
Perhaps some who get involved will use their entrepreneurial spirit to turn a little involvement into a lot, and maybe even a new business.
I do encourage individuals and companies who have work to be done to try very hard to involve those who haven't worked for a while. Insurance companies will be dealing with hundreds of contracts for repair work and can be particularly helpful.
Residents, who need masons or electricians or carpenters and can't find them, call the Bermuda Industrial Union or Workforce Development and ask for their help in connecting you to the right person.
All in all, it has been a remarkable experience. I have a renewed appreciation for Bermuda and Bermudians.
- Susan Jackson
Read More About