Members of Coral Beach & Tennis Club presented a cheque for just over $22,600 to the Bermuda Audubon Society for the continued maintenance of the Alfred Blackburn Smith Nature Reserve, an 8.7 acre coastal property to the west of the club in Paget.
Teresa Chatfield and Judith Howe-Tucker representing the action group of the Members of Coral Beach & Tennis Club [CBC] said, "This money was amassed when several members decided that the remainder of their donations [to help pay legal fees for the member's action group during receivership] should be donated to a charity."
"Coral Beach & Tennis Club is a neighbour of The Alfred Blackburn Smith Reserve, part of the Audubon Society reserves. With this money the Audubon Society can return this land to its original glory, full of endemic Bermudian plantings for all of Bermuda to enjoy."
Mr. Andrew Dobson, President of the Bermuda Audubon Society said, "We are especially grateful to receive such a generous donation that will enable generations of Bermudians to enjoy the benefit of this beautiful area of open space.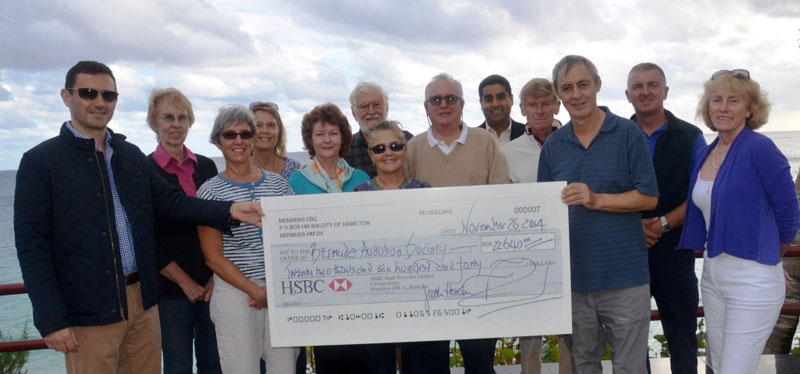 "Our job at the Bermuda Audubon Society will be to work hard to restore this land into a pristine piece of historic Bermuda, showcasing endemic and native trees and plants and protecting the habitat of our native bird life, including both woodland birds and longtails, which nest along the coastline," added Mr Dobson.
Nik Bhola, General Manager of Coral Beach & Tennis Club said, "An important part of being a local institution is the legacy and the messages you leave behind for future generations. Coral Beach & Tennis Club is fully focused on creating a legacy that all of Bermuda can be proud of. Our owners and our members are fully committed to Bermuda."
The money will be used to cull out casuarinas, particularly where they have self-seeded in their hundreds along the coast, and to plant cedars, palmettos, olivewoods and other native plants in a phased plan. Work will begin in the New Year.
Read More About
Category: All, Environment