Russian billionaire Roman Abramovich's super yacht Eclipse – which has been in Bermuda since early last month — moved from Hamilton at around 7.00am this morning [Dec 1].
According to the Bermuda Maritime Operations Centre, the luxury vessel is planning to head down to the Caribbean.
The super-yacht is over 500 ft long and was the largest privately owned super-yacht in the world until Sheikh Khalifa Bin Zayed Al Nahyan unveiled the 590-foot long Azzam last year.
Mr. Abramovich, who owns English Premier League football team Chelsea, has owned Eclipse since it was launched in 2010, when it took the title of world's biggest private yacht from the 454ft Rising Sun, which is owned by American businessman Larry Ellison, who also owns the Oracle sailing team, and is reported to have selected Bermuda to host the America's Cup.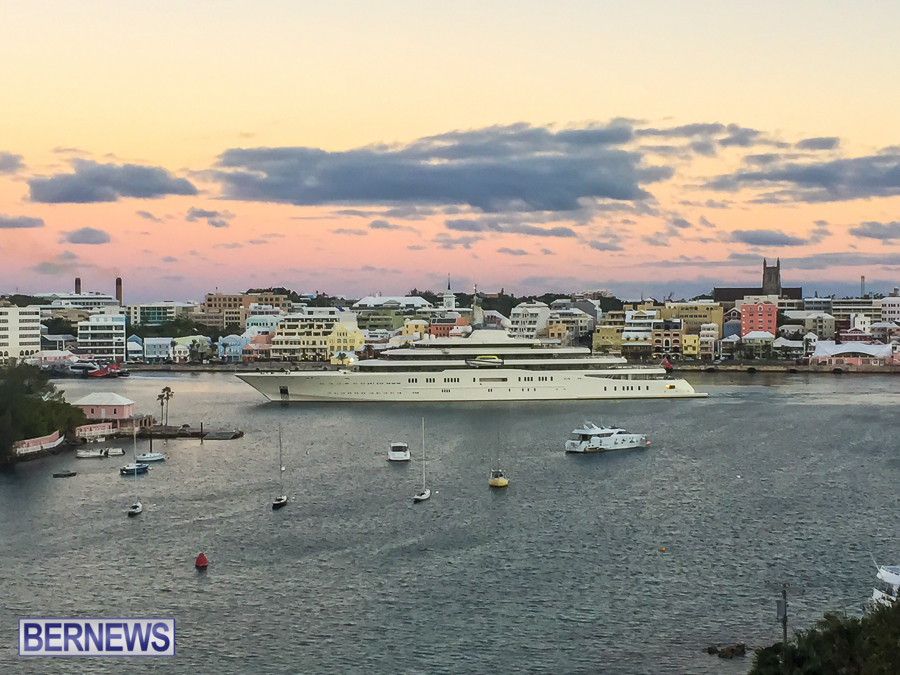 The Eclipse — which also visited the island last year – is reported to have at least two helicopter pads, several jacuzzis, two swimming pools, steam room, disco hall, library, three larger tenders, a private submarine, six-foot movie screens in all guest cabins, 20 jet skis and some 6,000 sq ft of living space.
There are numerous reports about the motor yacht's various high tech security technology, which is said to include motion sensors, armour plating, a special missile detection defense system, and missile-proof windows, with the crew of 70 said to include former SAS and Special Boat Service personnel.
According to Superyachtfan.com, "Eclipse is said to have an anti paparazzi system, a laser which is used to detect the electronic light sensors that digital cameras use. The camera is then targeted with a beam of bright light that overexposes the photo, which becomes useless."
The reported cost of the yacht varies from $500 million to $1.2 billion dollars, with various reports citing different values. You can view our past coverage of the Eclipse super-yacht here, and all our coverage of the various super-yachts that dock in Bermuda here.
Read More About