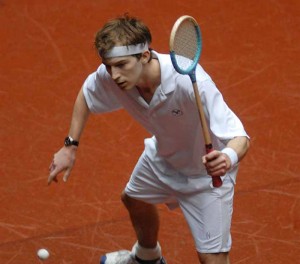 Top seed, James Stout won the British Open rackets title for the third time at the Queen's Club, London on January 25th.
Playing against the world number two, and second seed Will Hopton, it took Stout a little over two hours to claim his third British Open title by four games to nil [15/5, 15/9, 15/12, 15/11].
Hopton started strongly opening up a 5-1 lead in the first game, but Stout came back and dominated the rest of that game without dropping a point.
Stout built up a 7-2 lead in the second game, which Hopton did well to neutralize at 9-all. Regaining service Stout was able to close out the game from that stage, without further loss of points.
The third game was the most closely contested with players trading points and exchanging service until Hopton recovered to 12-13. Two great shots from Stout though, gave him the third game.
Stout was largely in control in the fourth game and had championship point at 14-8. However, an audacious drop shot from Hopton kept his hopes alive for a couple of points but Stout closed the match out with a score of 15/11.
In Friday's semi-finals Hopton beat third seed, Alex Titchener-Barrett, by four games to one. Stout beat surprise semi-finalist, fifth seed Tom Billings, in four straight games, 15/5, 15/8, 15/4, 15/0.
Stout previously won the British Open in 2008 and 2009. He last contested the event in 2010.
Stout is based at the Racquet and Tennis Club, Manhattan.
Read More About