More than 150 people gathered at 6.00am on April 25 for the 2015 Anzac Day dawn service on Coral Beach, with the crowd including Australian and New Zealanders, Governor George Ferguson, military officers, dignitaries, local residents, and some visitors to the island.
Readings and messages from the Prime Ministers and Governor-Generals of both countries were read by Australian and New Zealanders and the Commanding Officer of the Bermuda Regiment, and a letter from the National President of Australian RSL was read by the lead of the Bermuda Legion.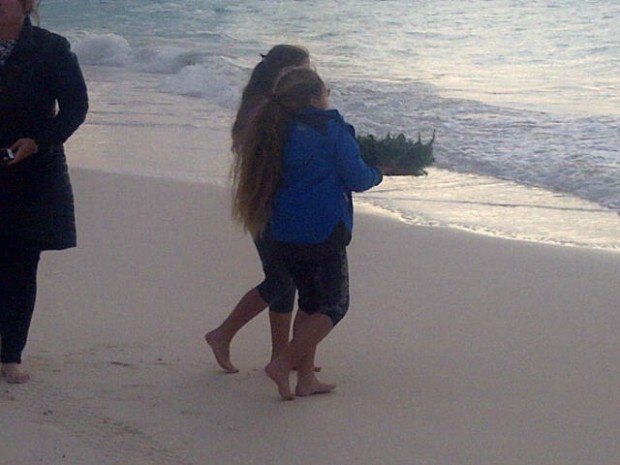 The Governor addressed the group on the ongoing significance of Anzac participation on the world platform, and this being a day of remembrance.
Five wreaths were laid in a space between the New Zealand and Australian flags staked in the sand, with one being homemade from lavender with six dried starfish to represent the stars on the New Zealand flag and Bermuda's coastal environment, made by two young New Zealand girls, who later respectfully cast the wreath to sea.
A piper played during the laying of the wreaths.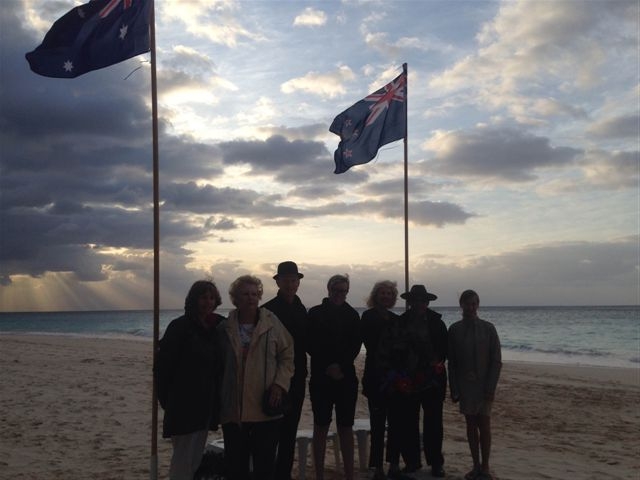 The national anthems of Bermuda, Australia, and New Zealand were sung, and the traditional The Ode of Remembrance was read by an Australian before The Last Post and Reveille were played by a bugler formerly of the Bermuda Regiment.
A BBQ breakfast featuring kangaroo burgers, Anzac Biscuits and Vegemite was provided courtesy of sponsorship from Southern Cross Cable Network, Australia Japan Cable and Deloitte [Bermuda]. The views and beach facilities of Coral Beach Club were enjoyed by all as the sun came out, and a Waka canoe put together from boxes was popular with the younger children.
After the beach event concluded, the wreaths were taken and laid at the Cenotaph in Hamilton.

Jane Chapman, from Adelaide, Australia has organised the Anzac Day dawn service in Bermuda for the last three years
Ms. Chapman said, "This year, the Anzac Day dawn service was held on Coral Beach to create a more authentic commemoration of those first Anzac beach landings in Gallipoli, 100 years ago today [25th April].
"So many people – Australians, New Zealanders, the Governor, Senator Baron, the Bermuda Regiment, interested locals and others – came out at 6.00am to be part of the service and reflect on this important day and the significance of people's efforts in not only WW1 but other Military and peace-keeping campaigns."
Read More About
Category: All