Bermuda Regiment soldiers at the weekend completed a major exercise focused on its internal security role.
April Advance – the final major piece of training before the annual overseas training exercise at Camp Lejeune in North Carolina – put the Regiment's second and third year soldiers through two days of gruelling scenarios.
Exercises included using parts of Dockyard for realistic public order exercises using some troops as rioters, while soldiers also practised night-time strike operations – raiding and clearing a house that contained armed insurgents.
Riot control: Operational Support Unit [OSU] soldiers practice riot control at Dockyard.
Regiment CO Lt Col Michael Foster-Brown said, "The idea of the strike was to quietly surround the target house where the person we wanted to arrest was in order to detain him before he could flee."
"In other scenarios, we put people under pressure with an active opposing force acting as rioters, including the controlled use of petrol bombs, with the aim of reinforcing key points and dispersing the crowd."
He added, "We hope we will not have to use these skills in anger, but our aim is to 'train hard, fight easy' as well as to practise new and interesting things, and the planning, coordination, command and control aspects and small unit tactics are very transferrable to other potential tasks."
On Guard: Soldiers hold the line as rioters advance during a major Dockyard training exercise.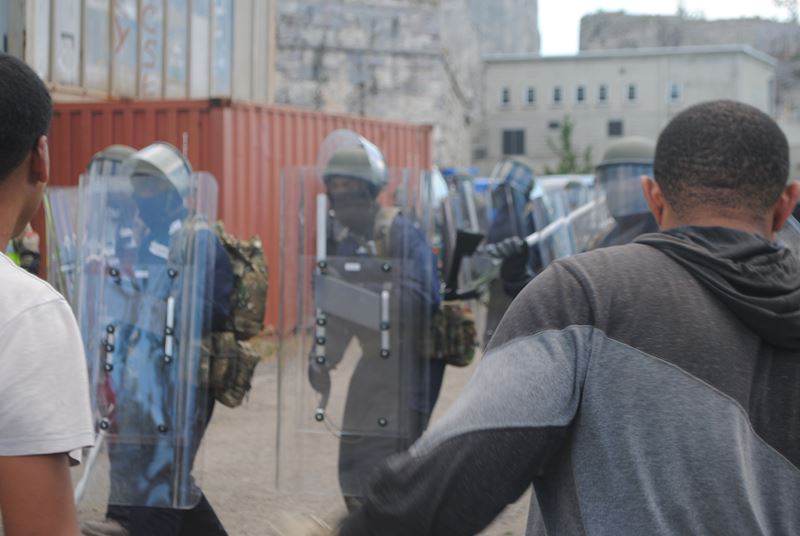 Specialist officers from the Bermuda Police Service joined soldiers in Dockyard to watch the training.
PC Brian McNab, who works in public order and officer safety training, said, "There are more similarities than differences between the way the Police and the Regiment work. The objectives are the same and what we want to achieve is the same and we want to get our tactics as close together as possible – we're a lot closer together than we were 18 months ago."
Pte Sheneve Campbell, a 21-year-old psychology student from Smiths, joined the Regiment's Operational Support Unit [OSU] in January.
She said after the Dockyard exercise, "I loved it – it's trying, but I still enjoy it. I always wanted to learn how to be a soldier and how to learn to stay switched on."
Baptism of fire: Operational Support Unit soldiers stand firm after fire bombs are exploded in front of them.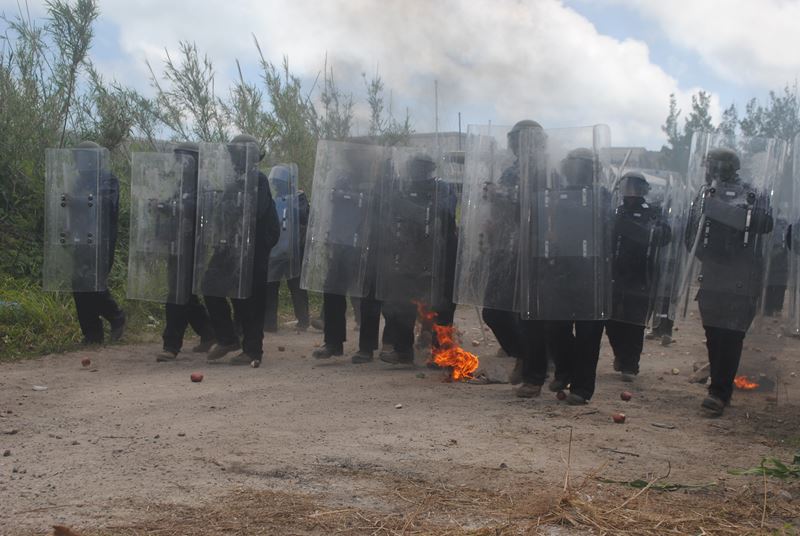 Pte Bradley Mitchell added, "It was fun – it was a lot of preparation and a lot of hard work. Wearing all this kit with the heat takes a toll on you, but you just had to fight through it."
The 26-year-old Pembroke conscript, a charted accountant at KPMG, added, "A lot of people were feeling it, but we got our chins up and just muscled through."
Mission accomplished: Soldiers capture an insurgent after a dawn raid on a house to practice public order skills.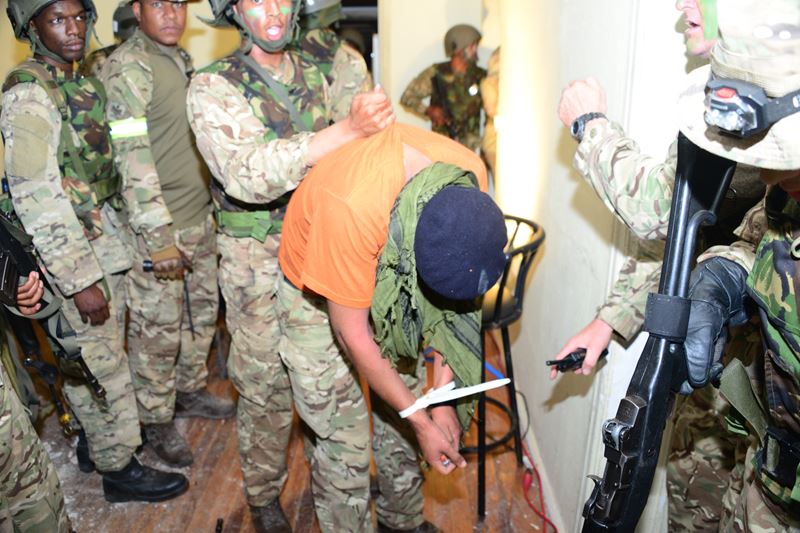 Lance Corporal Seth Campbell, who acted as an armed rioter, said he had enjoyed the experience.
The 20-year-old from St George's added, "My job was to help test what the OSU would do if they were fired on. I enjoyed the entire day very much."
Read More About
Category: All