The upcoming Appleby Bermuda Day Half Marathon will see a change in the route used in the past, with the race to begin in the east after 37 years of starting in the west.
The new route, which has been officially measured and certified as a half marathon, will journey out of St. George's, along North Shore Road, up Middle Road/Flatt's Hill, down Lane Hill onto Front Street and into Hamilton along the standard city route, finishing at the traditional finish line in Bernard's Park.
Outlining the full route, a spokesperson said, "The race starts at the junction of Duke of York Street and Old Maid's Lane, St. George's. Runners may use the entire road from the start to the Town of St. George's sign. From this point participants must run on the left side of the road including following the normal traffic flow at all roundabouts until Lane Hill in Hamilton."
Tyler Butterfield greets people at the finishing line on his way to winning last year's race: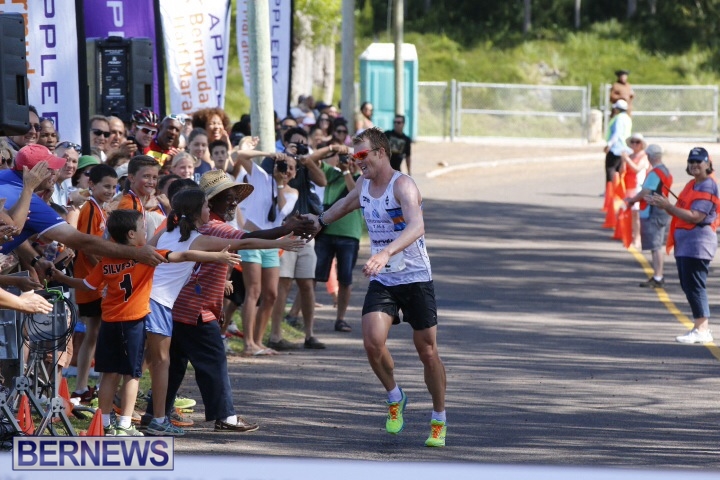 "Proceed along Mullet Bay Road, Kindley Field Road, The Causeway, Blue Hole Hill, North Shore Road, Flatts Hill, and Middle Road. Turn left at Lane Hill. Proceed down Lane Hill to East Broadway, and Front Street to Queen Street. Proceed up Queen Street turning right onto Church Street to King Street. Turn left at King Street and proceed to Victoria Street.
"Turn left at Victoria Street and proceed to Cedar Avenue. Turn right at Cedar Avenue and proceed to Marsh Folly Road. Turn right at Marsh Folly Road and proceed to Dutton Avenue. Turn right at Dutton Avenue and follow the directions onto the field at Bernard's Park to the Finish Line."
Map of the route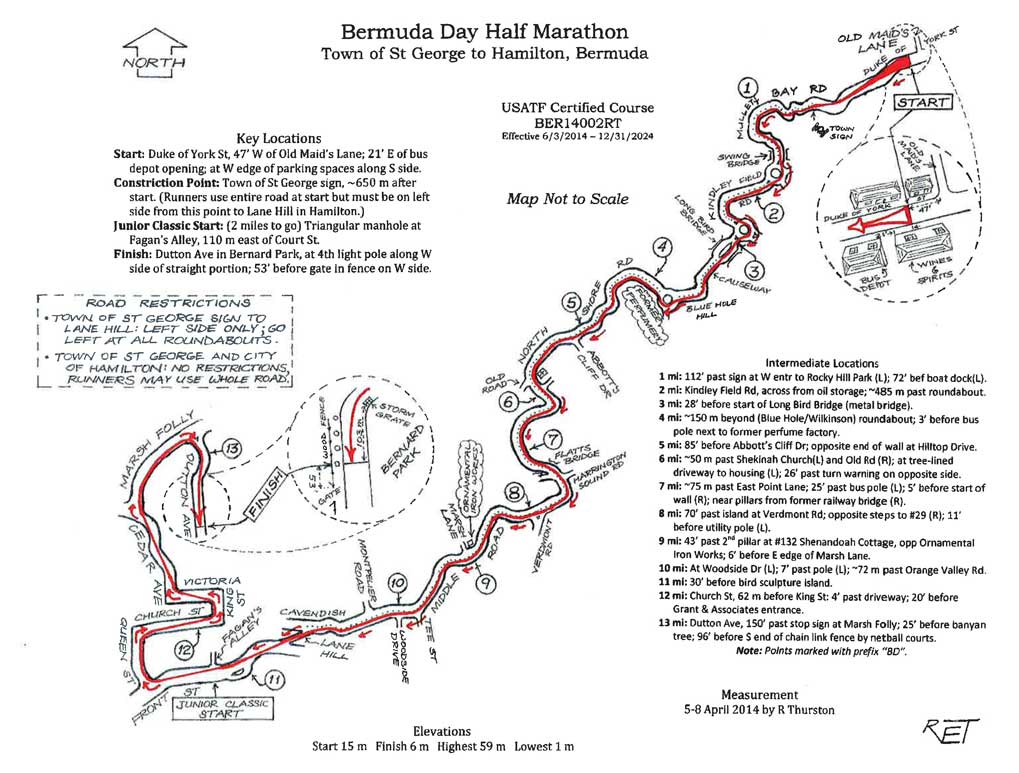 Registration forms are now available at Sportseller in the lower level of the Washington Mall beginning Monday 6 April. Or, for those who prefer to register online please go here beginning Monday 6 April. Hard copy registration deadline is Friday 15 May, while online registration deadline is Friday 22 May. Final entry and number collection is at Number Pick-Up to be held Saturday 23 May at Appleby [Church Street entrance].
For the latest information on this year's event, and complete registration details, visit their website.
Read More About