"The Bermuda tourism economy will benefit from a projected 10% increase in cruise visitors next year bringing in a total projected economic impact for the country of $91 million," the Ministry of Tourism Development & Transport and the Bermuda Tourism Authority [BTA] said jointly today.
"A sharp increase in occasional calls is partly driving the 12% increase in projected economic impact because Bermuda's occasional callers are almost exclusively smaller ships. Typically passengers on smaller ships, on average, spend more in port when compared to passengers travelling on larger cruise ships," the statement said.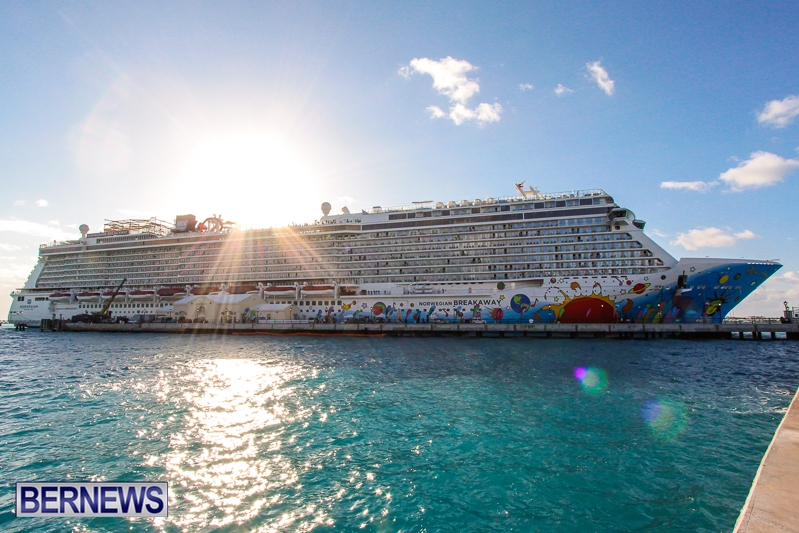 "Over the past two years we have experienced a significant increase in cruise arrivals and are pleased that this trend will continue into 2016," said Shawn Crockwell, Minister of Tourism Development & Transport. "Most importantly our strategy to find the right demographic of cruise vacationers is showing results. We are attracting the cruise lines, and therefore passengers, who will have the biggest impact on the local economy."
BTA CEO Bill Hanbury said: "We strategically targeted the premium/luxury brands over many months and are extremely pleased all the hard work paid off with 15 additional occasional calls in 2016, a significant 43% increase. That's going to go a long way toward building on the tourism economy growth we have begun to realise in 2015."
"The preliminary 2016 Cruise Ship Schedule projects 100 regular cruise calls, with an additional 50 occasional callers, bringing a total of 150 cruise calls for 2016. In 2015, there are 135 scheduled cruise calls," the statement continued.
"Approximately 407,000 cruise visitors are anticipated for 2016, compared to 370,000 for 2015. In 2014, there were 356,000 cruise visitor arrivals.
"Projections for 2016 forecast a 12% increase in economic impact [$91m] as a result of a 10% increase in cruise visitors. In 2015, $81 million in economic impact was projected in a combined total of government taxes, cruise passenger expenditure and crew member expenditure.
"Businesses in small ports like Hamilton and St. George are expected to realise the greatest benefit in 2016 because they will see the sharpest percentage increase in number of calls when compared to the year before. Hamilton cruise calls will go up 20% [from 15 to 18] in 2016 and St. George cruise calls will go up 150% [from 2 to 5]."
"We can grow the St. George number even more if Town Cut is widened," said Mr. Hanbury "but that's a decision we leave in the hands of east end residents and their elected officials."
Highlights of the 2016 Cruise Ship Schedule include:
Holland America Line will return to Bermuda with five cruises in 2016, four on the Veendam from Boston and one on the Prisendam;
 Aida Cruises, a German-speaking line, will return to Bermuda with six cruises in 2016;
  The luxury line Regent Seven Seas Cruises will deploy three cruises to the island;
  The premium line Oceania Cruises will make seven calls to Bermuda;
  The luxury brand Silversea Cruises will make two cruises calls to Bermuda in 2016;
  The luxury line Crystal Cruises will return to the island with one call on the Crystal Symphony;
  Princess Cruises will be returning to Bermuda with four calls;
  Carnival Cruise Line will make ten calls to Bermuda;
  The new cruise brand Viking Cruises has scheduled one call to Bermuda, pending the completion of a simulation exercise to ensure the ship can dock in Hamilton;
  Also calling in Bermuda in 2016 will be P&O Cruises, MSC Cruises, Saga Cruise, Swan Hellenic, Thomson Cruises and Fred Olsen Line.
"In addition to the occasional callers, Royal Caribbean will be introducing their newly built Anthem of the Seas to Bermuda in 2016. "Royal Caribbean's introduction of the larger and newer Anthem of the Seas and Norwegian Cruise Line's return of the Breakaway shows the major cruise lines commitment to providing Bermuda with their most modern cruise ships," said Minister Crockwell.
"The 2016 Cruise Ship Schedule is designed to provide maximum benefit for a variety of Bermuda tourism industry stakeholders who rely on cruise visitors and crew members, including taxi and minibus tour operators, excursion operators, retailers and restaurateurs," the statement said.
In addition to the 50 occasional callers, 100 cruise calls are anticipated from the regular callers. This will include the following:
Royal Caribbean's new-build Anthem of the Seas will make 21 calls to Bermuda from Cape Liberty, New Jersey; replacing the Liberty of the Seas;
Royal Caribbean's Grandeur of the Seas will return with 17 cruises from Baltimore;
Celebrity Cruises will deploy the Summit from Cape Liberty, New Jersey, with 19 cruises scheduled for 2016;
Norwegian Cruise Line will deploy the Breakaway to Bermuda in 2016 with 26 calls;
Norwegian Cruise Line will deploy the Dawn on the Boston route, with 17 cruises scheduled for 2016.
"The 2016 Cruise Ship Schedule will be made available later this year from the Ministry of Tourism Development & Transport, once final details are completed. The preliminary 2016 Cruise Ship Schedule is being announced sooner than normal to enable those whose livelihood relies on the cruise ship segment adequate time to prepare for next season."
Read More About