[Updated] Appearing in Magistrates Court this morning [Oct 12], a 52-year-old American tourist was sentenced to ten days in prison after being caught with a gun yesterday while at Bermuda's airport attempting to catch a flight out of the island.
Terry Lane Jasper — a visitor from Lehi, Utah — arrived in Bermuda earlier this month to celebrate his wedding anniversary and was attempting to leave Bermuda when he was caught by airport staff with the firearm yesterday.
A police statement after his arrest yesterday said, "Police responded to a report of a visitor to the island who was found in possession of a firearm at the L.F. Wade International Airport around 12 noon Sunday, October 11th.
"The 52 year old Utah man and the weapon were taken into police custody. It should be noted that at no time was the firearm wielded. A full investigation is underway."
Police responding to the airport yesterday: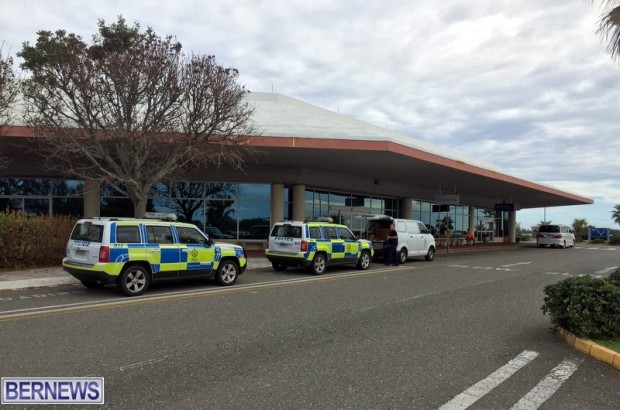 This morning the Court heard that Mr Jasper owns dozens of guns back in the United States, and upon being found with the gun he apparently told local officials it was a "stupid mistake", and didn't know it was in his bag.
Mr Jasper, who was represented by Marc Daniels, was sentenced to 10 days in prison by Magistrate Khamisi Tokunbo.
The Utah resident remained quite calm throughout the Court proceedings, however a woman who appeared to be his wife broke down in tears after he was sentenced.
Update 2.56pm: In a post on their social media page, law firm Marc Geoffrey Barristers & Attorneys Ltd — who defended Mr Jasper — said, "A lot more was argued in Court beyond suggesting that Mr. Jasper was sorry and petrified of going to jail.
"Essentially, we sought to make comparison to a previous case in this jurisdiction whereby an American female was caught with a magazine clip in her 'fanny pack'.
"This American female realized her mistake en route to Bermuda and sought to discard the ammunition from the magazine clip; however she failed to declare the magazine clip upon arrival in Bermuda.
"She was given 10 days imprisonment but subsequently appealed the decision and the Supreme Court held that an absolute discharge was warranted.
"In the present case, the Court held that the difference was that the female imported an empty magazine clip whereas this firearm was loaded and fully functional.
"Mr. Jasper argued that he was an avid hunter and had nearly 50 firearms to which all were lawfully registered; however, he had forgotten that he left a pistol in the exterior of his luggage from a previous hunting trip.
The post added it "was kept as protection rather than for hunting; however it was a lawful weapon and he did not realize that it was in his suitcase when he travelled to Bermuda. He never saw the pistol while in Bermuda as he did not check the external components at any time while on island.
"Mr. Jasper did not seek to challenge the charge on the basis of a lack of knowledge as there were concerns whether he would be able to perfect his bail with no assets in this jurisdiction.
"Further, any trial date could range from days to months later and we knew that the Court was entertaining a 10 day period of imprisonment that on balance he simply wants to put this matter behind him.
"There was a sense that with the America's Cup coming up, the Court would not want to enable American tourists to bring firearms to Bermuda and then claim a lack of knowledge and only be required to pay a fine to 'buy their way out of a conviction'.
"This is another sad case however as we have potentially lost another tourist from returning to the shores, hence we undertook the matter pro bono, albeit we wholeheartedly understand and respect the rationale that there cannot be a distinction between Bermudians and foreigners who face similar circumstances before the eyes of the Court."
[Note: Due to legal reasons there are very specific rules about commenting on court stories, and as such comments are restricted].

Read More About
Category: All, Court Reports, Crime, News