News that Dr. Kyjuan Brown won a Caribbean Dermatology Association research prize award in Barbados, goalkeeper Freddy Hall signed a two-year deal with Limerick Football Club in Ireland, and the Scaur Hill Charity Salad Party raised money for charity were all some of the positive news stories from the past week.
Other good news stories included the Salvation Army holding its 'Boundless' Congress, Exclusive Home opening a pop-up location at Washington Mall, Bermudian Ryan Parris being named a Atlantic University Sport Soccer All-Star, Rai Simons scoring in a Chesterfield victory, CNN MainSail featuring Bermuda in an episode, and BTC creating fourteen new jobs.
We also posted various community photo galleries, including multiple galleries of the World Rugby Classic, the boxing event at Fairmont Southampton, Filipino Association & Folk Club Open Mic Night, the Equestrian RES Spring Series Show, XL Catlin Man on the Run 5K road race, Saltus' clean up at John Smith's Bay, the Pilot Gig Club hosting a regatta, the International Gymnastics Challenge and three galleries of Remembrance Day services on the island.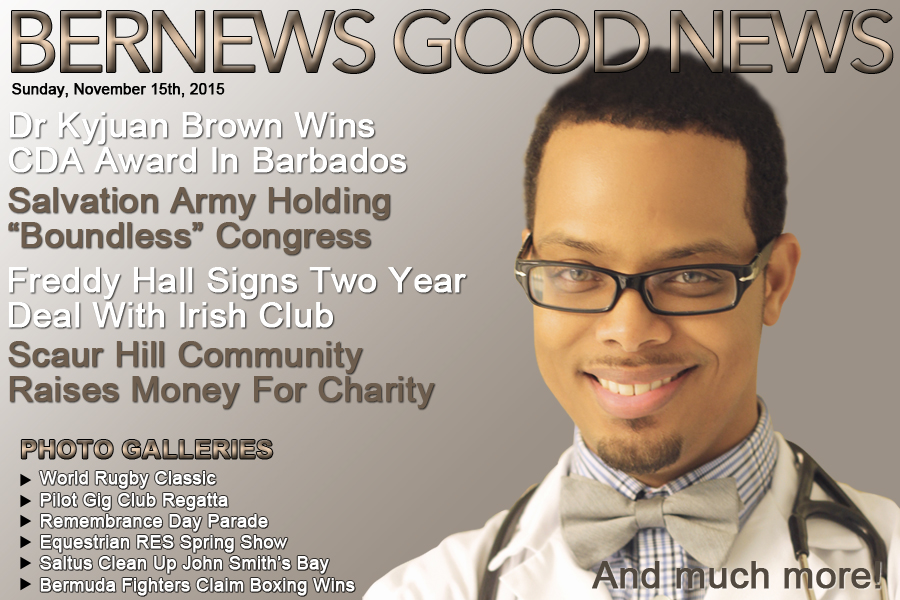 In an effort to highlight some of positive news happening in our community, we supplement our standard morning and evening email newsletters with a special Sunday "Good News" email newsletter edition, which strictly focuses on the positive news from the past week.
You can sign up to have the free newsletter delivered via email here, and/or access the links below. In addition, for those who like positive news, please feel free to visit our sister site ForeverBermuda.com, which seeks to showcase the best of Bermuda as well as provide information and listings for visitor related services.
Links to some of the 'good news' from the past week are below:
Read More About