There were more than 200 offshore initial public offerings [IPOs] announced or completed in 2015, with the majority of those businesses coming from the Cayman Islands, according to data compiled by leading offshore law firm Appleby.
The firm examined completed and planned IPOs by companies incorporated in Bermuda, the British Virgin Islands, Cayman Islands, Hong Kong, Guernsey, Isle of Man, Jersey, Mauritius and Seychelles. The 202 total for 2015 was up from the 181 seen in 2014.
"The number of IPOs and planned IPOs by offshore-incorporated companies increased in 2015, with over 200 IPOs being announced or completed, the highest figure seen in the last five years," said Cameron Adderley, Global Practice Group Head of the Corporate Department at Appleby.
"Seventy-eight offshore companies completed their debuts across a wide range of stock exchanges, with a combined worth of almost USD11bn and an average size of USD140m."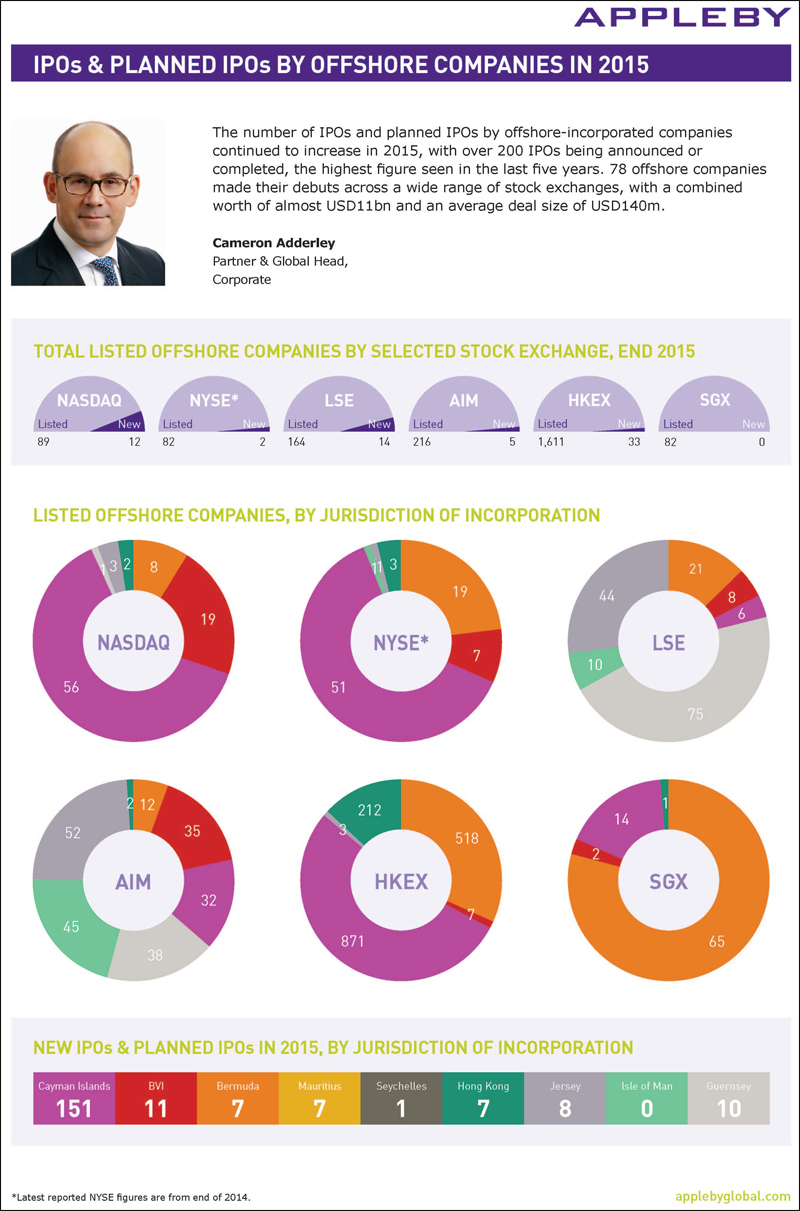 With 151 local companies completing IPOs or announcing plans to go public on global markets, Cayman was far out in front as a source for offshore-incorporated IPOs in 2015. Cayman was followed by BVI, 11, Guernsey, 10, Jersey, eight, Bermuda, Hong Kong and Mauritius, each with seven, and Seychelles, one.
The top five sectors for IPO activity were manufacturing [53], financial and insurance activities [43], professional, scientific and technical activities [20], construction [19] and information and communication [16], according to Appleby. With USD4.7bn in deals and valuations in the sector, financial and insurance activities led IPO activity by value.
For offshore companies looking to list, the Hong Kong Stock Exchange proved by far to be the most popular, attracting 132 companies, included the top four IPOs by value.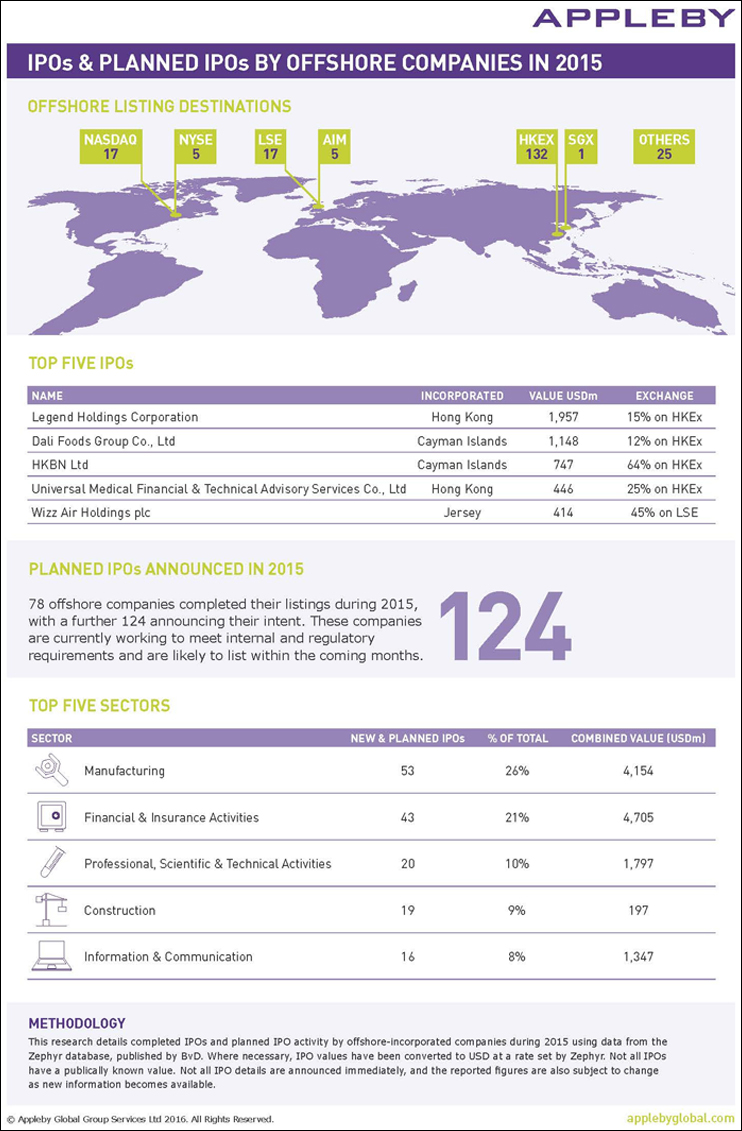 Summary of key findings:
202 offshore-incorporated companies completed IPOs or announced plans to go public in 2015, with 124 of those that announced currently working to meet internal and regulatory listing requirements.
The Hong Kong Stock Exchange attracted the highest number of listings and planned listings, with 132 companies choosing the exchange. The HKEx was followed by the NASDAQ and London Stock Exchange, each with 17. The New York Stock Exchange and AIM each had five, and the Singapore Exchange, one.
The three biggest offshore IPOs of 2015 were Legend Holdings Corporation, Dali Foods Group Co., Ltd and HKBN Ltd.
Cayman Islands-incorporated companies completed and/or announced 151 IPOs, making up 74% of the total.
Manufacturing was the most popular sector by volume, while financial and technical activities accounted for the highest value of listings.
Read More About