Party With A Princess announced the final week of early-bird ticket sales for their first Easter Extravaganza picnic in the park, which is set to be held on March 20 at the Arboretum.
A spokesperson said, "Building on the success of the Halloween Spooktacular, we are looking to put on a first class family fun event in the park. The children may come in any costume they desire, or in regular clothing, and we will be having kite flying."
"As well as the base ticket there are three different add-on options on offer. The first is decorating of an Easter egg, the second is decorating of an Easter basket with the third option being to purchase both crafts. This is essentially a four hour catered event with many inflatables to play on to keep the family entertained".
"The event starts at 11am and basic tickets are being sold for $35 per ticket up until March 1".
"Ticket sales will have to end on March 15 in order to confirm catering numbers".
"We will provide limited tables and chairs and recommend that our guests bring picnic blankets for this picnic in the park."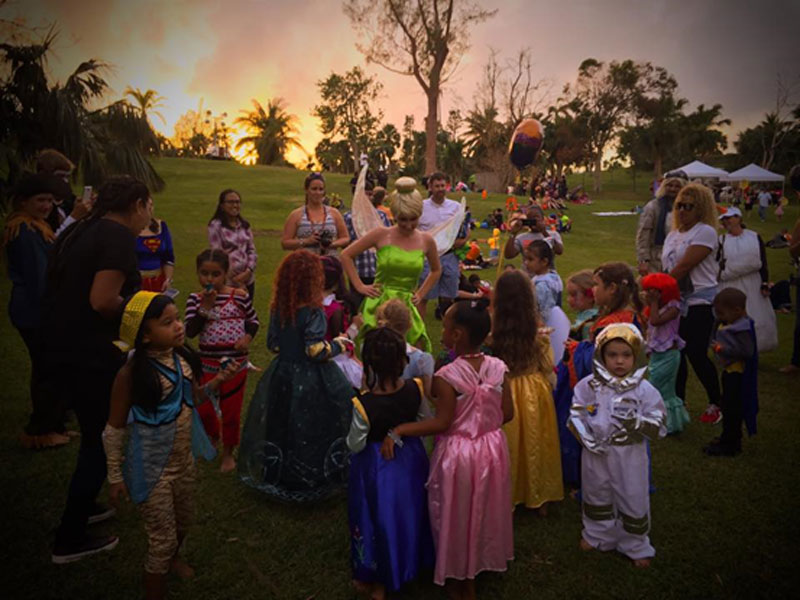 Lisa Bishop, Chief Executive Officer of Party with a Princess, Ltd.said, "We are really excited about bringing this new family event to Bermuda the week before schools break up for the Easter vacation."
"As well as many characters including the Easter Bunny, the ticket includes picnic foods from Island Restaurant Group and a soft drink."
"Children will have the opportunity to interact with all of the characters, notably Alice in Wonderland, the Mad Hatter, the Easter Bunny, Tinker Bell, Peter Pan, Rapunzel, Belle, The Frog Princess, The Little Mermaid, The Ice Princess and Ice Queen who will be debuting their beautiful 'fever' costumes."
"All guests may participate in the Easter egg hunt, where Tinker Bell, Peter Pan and the Mad Hatter will lead the children around the treasure hunt to find Easter treats hidden by the Easter Bunny."
The almost full line-up of Princesses from an event last year, Princess Belle, Snow White, Sleeping Beauty, the Little Mermaid, Cinderella, the Ice Queen, the Ice Princess and the Frog Princess.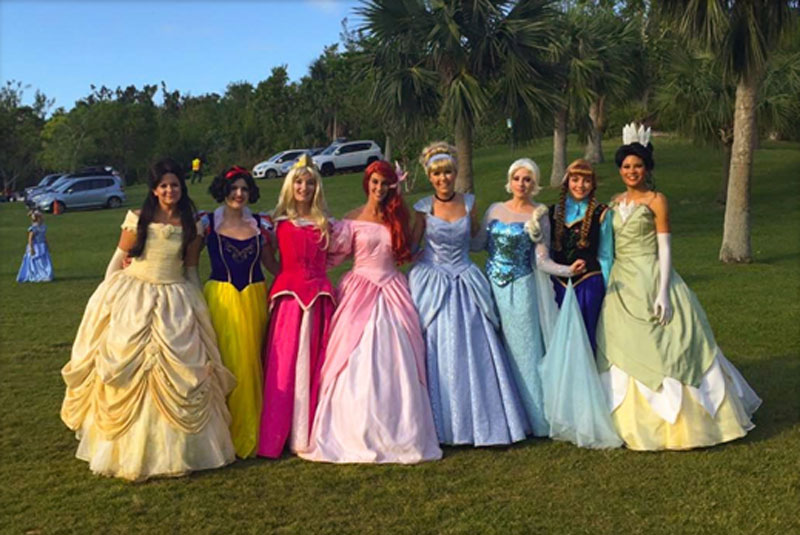 Tickets for the Extravaganza are $35 per person until March 1, increasing to $40 the following week with any remaining costing $45 in the lead up to the event. Characters will be present from 12pm to 2pm; the Easter egg hunt will start at 1pm.
Entry is free for children under two-years-old, with tickets available on bdatix.bm.
Read More About
Category: All, Entertainment