On Thursday, July 14, BUEI's travelling lionfish exhibit officially opened at the entrance to Gorham's flagship store in Hamilton.
On hand for the opening were Gorham's General Manager Andrew Mackay, Lionfish Taskforce member and Head of the Bermuda Lionfish Culling Program Corey Eddy, Head of BUEI Exhibits Russell de Moura, and Head of BUEI Marketing Belinda Barbieri.
Gorhams General Manager Andrew Mackay said, "We were thrilled to welcome the Lionfish travelling exhibit from BUEI when they needed to make way for the new Americas Cup exhibit and showcase it here for a short period of time before it heads to Dockyard."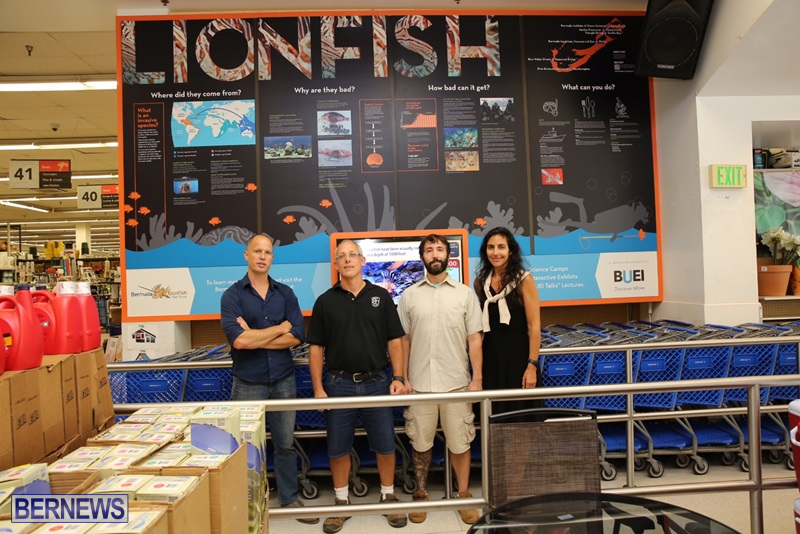 "We have been a supporter of the Lionfish Taskforce for several years now and other groups that are trying to tackle this silent predator. It only seemed logical to display the boards here in the store to help bring more awareness to the island about what this voracious fish is doing to our fish population." He went on to add "It just made sense so we are glad we could help.
"It will also help remind people of the great work that the BUEI does and a reminder to head down there and visit their latest exhibits."
Belinda Barbieri, Head of Marketing at BUEI, said, "We wanted to extend the value of the lionfish exhibit that had been on display at BUEI for almost 3 years and continue to get the message out to the community about this invasive species.
"Gorhams have always been great supporters of the lionfish initiative and jumped at the chance to house a travelling exhibit. We are pleased that this important message will continue to reach the community."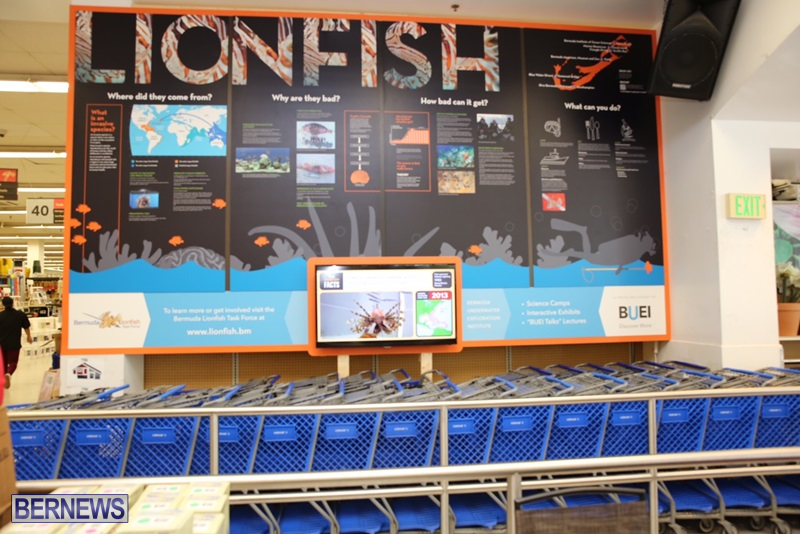 Lionfish Taskforce member and Head of the Bermuda Lionfish Culling Program Corey Eddy said, "While it appears that the lionfish problem has developed a little slower in Bermuda than other places, such as the Bahamas for example, it isn't the sort of problem that goes away.
"In fact, most evidence suggests it may only get worse. Lionfish are a forever problem. We'll never get rid of them completely, but we can control them by overfishing them. With that in mind, we need to make sure the public remains aware and involved. We need them in the water, hunting lionfish; we need them at home, eating lionfish; and we need the fishermen, restaurants and markets to sell lionfish.
"We need everyone to know the story and the facts, especially as we learn more about Bermuda's lionfish population and its potential impact. Equally so, we need to dispel a few myths. A lot of people, for example, still think that lionfish are only found in very deep water or that the sting from a lionfish will kill, but both ideas are actually very wrong.
"With this new lionfish exhibit open to the public in one of the most public and highly trafficked places in Bermuda, we're very confident that everyone will get the message and share that with their friends and families."

Read More About
Category: All, Environment