Umbrellas and lounge chairs, plenty of well-marked garbage and recycling bins, regularly maintained restrooms and a new concession are just some of the improvements recently made at Horseshoe Bay Beach.
"These additions to the Horseshoe Bay experience are part of Bermuda's new 'Beach Vision'. John Smith's Bay, Clearwater, Horseshoe Bay, Shelly Bay and Tobacco Bay have been singled out for enhancements that both residents and visitors can enjoy. Beach Vision also provides entrepreneurial opportunities for local residents," the Ministry said.
"While the five theme beaches are improved, Bermuda's remaining beaches will not be developed further so they retain their natural beauty, and important natural habitats are protected.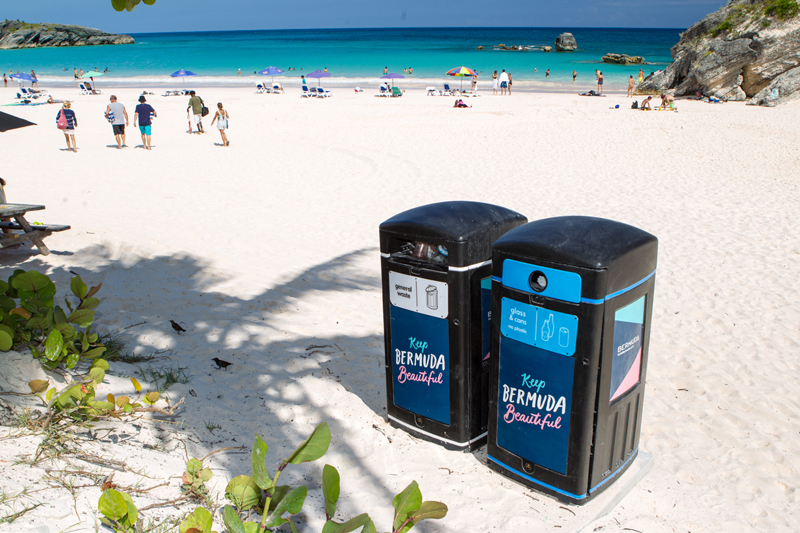 "The enhancements to Horseshoe Bay were achieved through the collaboration of the Ministries of Environment, Public Works and Tourism, Transport and Municipalities, and the Departments of Planning and Parks, in conjunction with the Bermuda Tourism Authority, Parks Commission, Sustainable Development, and Keep Bermuda Beautiful."
Minister of the Environment Cole Simons said, "I went to see for myself how locals and visitors were enjoying these improvements to one of our most treasured attractions.
"I found that everyone is working together and taking pride in what we provide to the public. In just a few months, I am proud to say we have accomplished quite a bit. We have more work to do to ensure the best possible experience for beach goers, but feedback so far has been positive."
"Further enhancements are planned at Horseshoe Bay in the off-season, including restroom renovations, additional landscaping and a review of traffic flow," the Ministry added,
"Beach Vision' was launched in May of 2016. Feedback on 'Beach Vision' can be sent to: beaches@gov.bm."
Read More About
Category: All, Entertainment, News