A Bermuda Sanshou Association [BSA] team of seven athletes returned home recently with a haul of seven medals after competing in the 11th Pan American Wushu Championships in Lubbock, Texas.
The team consisted of Zain Philpott, Keanu Wilson, Sentwali Woolridge, Jermal Woolridge, Talia Iris, Krista Dyer and Chaquita Simmons. The team was coached by reigning Pan American medalist Khalid Pitcher.
A spokesperson said, "Talia Iris and Krista Dyer represented the Bermuda Wushu Team in the championships opening sessions. Iris was up first against USA's Morganne Thompson.
"In a very competitive match Iris went down 2 rounds to 1 to settle for the silver medal. Iris lost the first round, came back in the second round with a win but then went down in the decisive third round.
"Krista Dyer competed in the next match against Emily Dias also of USA. Dyer started off strong winning the first round. She went down in the second round setting up for a third and final round. Fatigue played a factor and Dyer went down in the third round with Dias the victor 2 rounds to 1.
"Bermuda's third female athlete Chaquita Simmons did not compete as her registered opponent withdrew from the competition. As a result Simmons received the gold medal.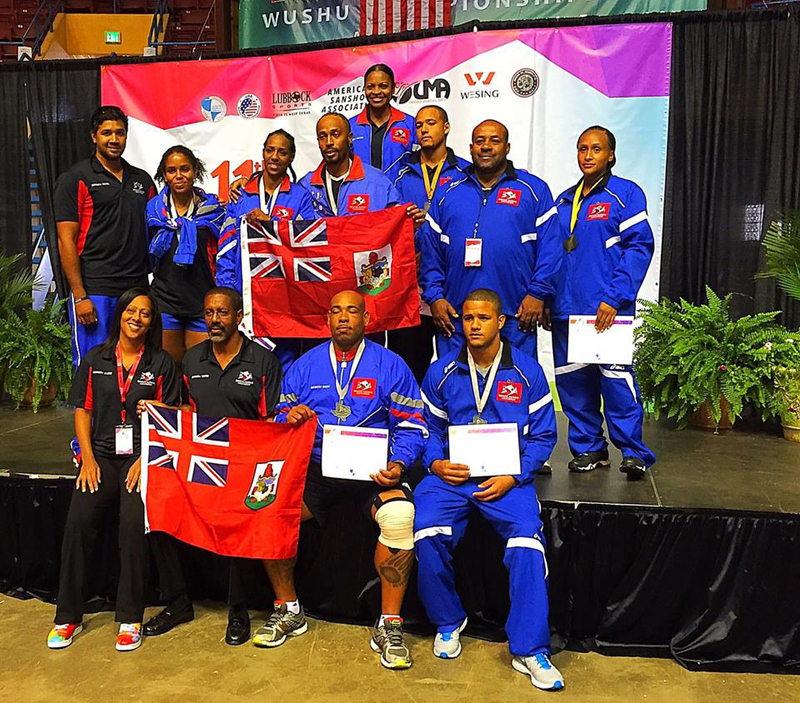 "Sentwali Woolridge only needed one round to defeat Argentina's Maximiliano Boyer to earn a spot in the final against Brazil. Woolridge punished his opponent with leg kicks which left him unable to continue after the first round. Woolridge was awarded ultimate victory.
"Keanu Wilson also won his fight 2 rounds to 0 against USA's Tomas Rios utilizing some great take-downs. Wilson fatigued towards the end of the second round but had accumulated enough points to hang on for the victory. Zain Philpott unfortunately went down 2 rounds to 0 against Gabriel Echavarry of USA.
"Defending Pan American Champion Sentwali Woolridge went down 2 rounds to 0 against Brazil's Braulio Junior in the 75kg finals. After losing the first round Woolridge attempted to make some adjustments but the young Brazilian proved to be the better fighter on the night to become the new 75kg champion. Woolridge finished with the silver.
"Keanu Wilson also went down 2 rounds to 0 against Brazil's veteran fighter Daniel Dionisio. Dionisio is in his last year of eligibility for amateur sanda as he turned 35 this year. Wilson put in a solid effort against the veteran and certainly gained a lot of experience in his first Pan American championships picking up one win and one loss to finish with the silver.
"Jermal Woolridge was unable to change Bermuda's fortune, as he endured an injury in the first round being unable to continue the match. While executing a take-down against USA's Christian Morales, both fighters fell awkwardly resulting in Woolridge blowing out his knee.
"Bermuda concluded the championships with one gold, five silver and one bronze medal."
Bermuda Sanshou Association President and Head Coach Garon Wilkinson said, "This is the first time that I have not accompanied my team since we started competing in the Pan American Wushu Championships 10 years ago in 2006.
"This is a true testament of the depth that we possess in our organization…from the coaches and captain, to our managers and executive team. I am proud of our medal haul of 7 medals and I look forward to posting big results for the remainder of the year."

Read More About