In a filing with the Bermuda Stock Exchange [BSX], Watlington Waterworks Ltd provided their report to shareholders for the six months ended June 30, 2016, saying their results were "disappointing," as Bermuda received 34% above average rain which led to piped water sales being down by nearly $250,000.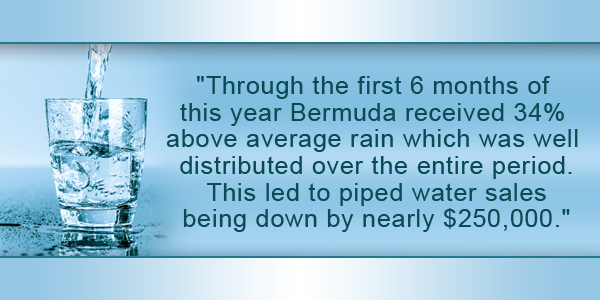 The full filing stated: "The Company's performance through the first six months of this year has been disappointing when compared with last year.
"The Company's most important revenue stream is piped water which provides a supplementary potable water supply to commercial and private properties alike. Bermuda harvests over 50% of its potable water needs from rainwater collected on roofs.
"When we receive abundant rainfall, well distributed over a period of time, the demand for piped water is low.
"Through the first six months of this year Bermuda received 34% above average rain which was well distributed over the entire period. This led to piped water sales being down by nearly $250,000 when compared to the same period last year.
"Sales volumes were at a decades low. As a consequence the Company's gross revenue to June 30 was down $177,279 and net earnings were down $196,790.
"Production costs were less because substantially less water was manufactured during the first half of the year, meanwhile distribution and administrative expenses increased a combined 1.2%.
"On a more positive note bottled water sales remained strong despite competition and retail sales recorded the best result in ten years. However these could not compensate for the loss of piped water sales.
"July continued the same trend as the first six months for rain but August saw a great difference as the rains lessened resulting in some piped water sales recovery.
"It will remain to be seen if there will be less rain in the second half of the year to create greater demand for piped water that could lead to some recovery.
"In June new tariffs for electrical power came into effect, which have the effect of increasing our costs for electricity by over 14%.
"Electricity expense is the Company's second highest single expense and as such after holding prices unchanged for two years it suddenly became necessary for the Company to raise prices to compensate for the rise in power costs by more than traditional annual adjustments.
"The Company will not be deterred from its long term goals by the short term set-back Mother Nature caused and will continue to plan ahead to meet future demands for affordable public water supply to those parts of Bermuda it serves."
Read More About