This week's meetings in the United Kingdom were "productive and fruitful", according to Premier Michael Dunkley, who concluded his discussions with UK officials earlier today.
The Cabinet Office noted that the overall purpose of the Premier's London visit was to "build an open line of communication with the new UK administration under Prime Minister Theresa May."
Tthe Premier's first meeting took place yesterday [Sept 1] at No. 9 Downing Street with Robin Walker MP, Parliamentary Under Secretary of State, Department for Exiting the European Union.
Premier Dunkley said, "This was a very key meeting which focused on issues of concern for many Bermudians as a result of Brexit.
"It was an opportunity to discuss how the Government will maintain an open line of communication to ensure Bermuda's interests are part of the UK's overall negotiation process. The Under Secretary gave his assurance that Bermuda would be aware of developments that might impact Bermuda moving forward."
The Premier also had discussions yesterday with the Rt Hon Baroness Anelay of St John DBE, Minister of State for the Commonwealth, UN, and Overseas Territories.
Premier Dunkley pictured with the Rt Hon Baroness Anelay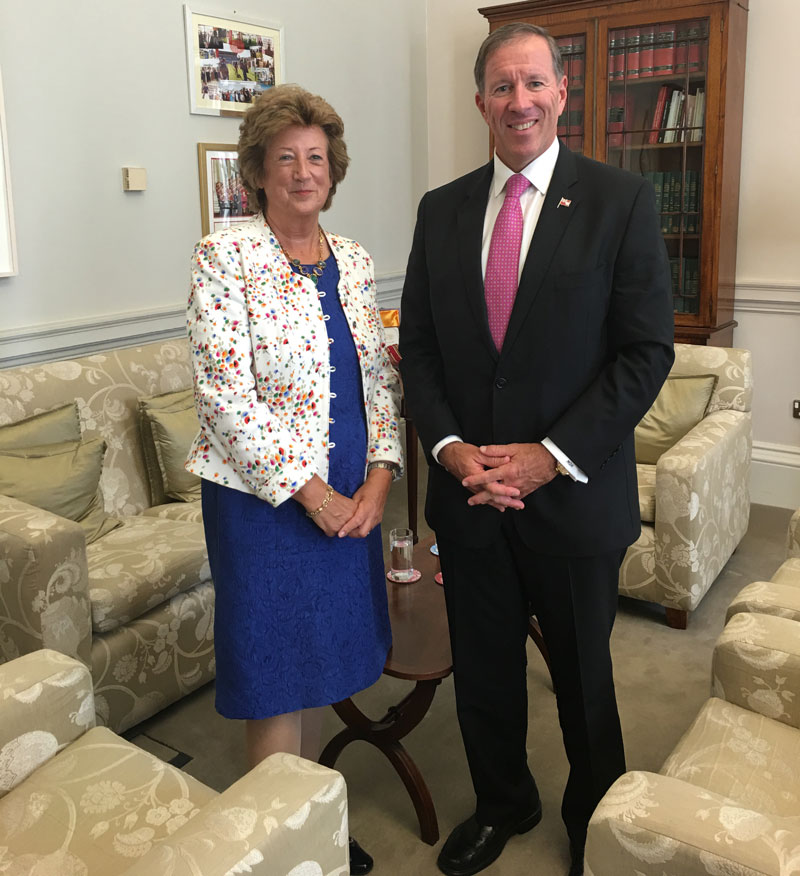 Premier Dunkley added, "In addition to Brexit, other issues raised included the announcement of our next Governor; joint work to update and simplify the extradition process between the Overseas Territories and the UK; and the recognition of the Bermuda driving license in the US state of Massachusetts."
This morning [Sept 2] the Premier had a breakfast consultation with Lord James Borwick, Lady Victoria Borwick MP and Lord Chadlington [Peter Selwyn Gummer] to discuss and gain some insight on Prime Minister May's new administration and her vision for the UK.
And rounding out his day, Premier Dunkley was hosted at a luncheon which included key industry figures at XL Catlin based in London.
The meeting, which was arranged by Stephen Catlin and hosted by Paul Jardine, provided an opportunity to have an open dialogue with the insurance industry about Bermuda's success as an offshore financial centre. The Premier also conducted an interview today with the Economist.
Premier Dunkley is accompanied in the UK by the Secretary to the Cabinet, Dr. Derrick Binns and Kimberley Durrant, UK Representative and Director of the London Office.
Read More About