Dr. Ty-Ron Douglas holding a book signing to release his latest book, Delray Rawlins signing a professional cricket contract with Sussex County Cricket Club in the UK, and NBA legend Earl "The Pearl" Monroe visiting the CedarBridge Academy basketball team were all some of the positive news stories from the past week.
Other good news stories included Concordia Maritime awarding scholarships to Joshua Santucci-Smith and Erin Greig, artist April Branco planning to release a book featuring paintings Bermuda's Gombeys, and footballers Zeiko Lewis and Justin Donawa scoring for their college teams.
In additional good news, an outdoor 'ice skating rink' is set to open in St George's over holiday season, new outdoor fitness equipment was installed at the National Sports Centre, and the Modblu Boutique held a grand opening event.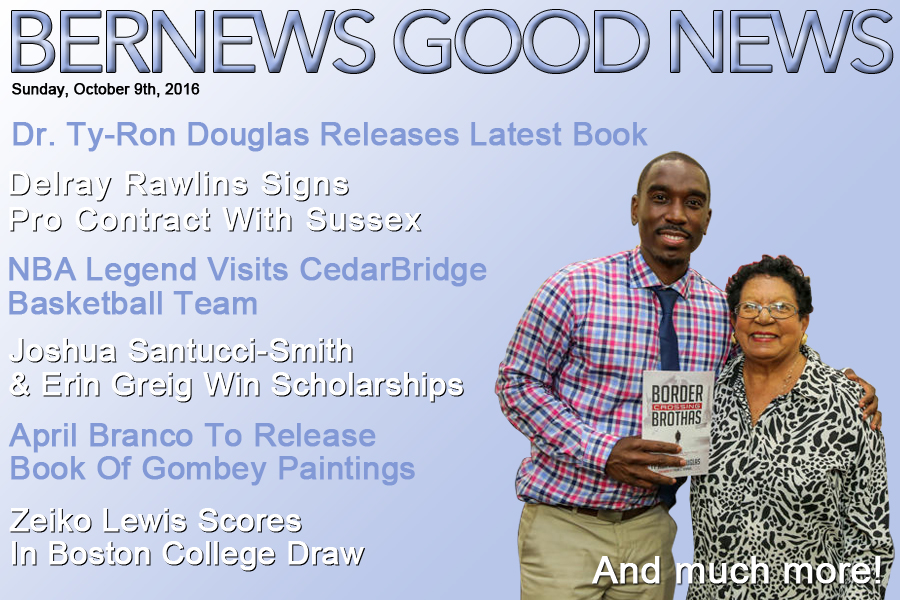 We also posted various community photo galleries, including coverage of the TORC "Auto-Moto" Car Show, the World Teachers Day celebration, the Police Week Seniors Tea, motocross racing, the PartnerRe Women's 5K Run and Walk, the Blessing of Animals at the Unfinished Church, and the Police Gymkhana.
In an effort to highlight some of positive news happening in our community, we supplement our standard morning and evening email newsletters with a special Sunday "Good News" email newsletter edition, which strictly focuses on the positive news from the past week.
You can sign up to have the free newsletter delivered via email here, and/or access the links below. In addition, for those who like positive news, please feel free to visit our sister site ForeverBermuda.com, which seeks to showcase the best of Bermuda as well as provide information and listings for visitor related services.
Links to some of the 'good news' from the past week are below:
Read More About