The Bermuda Tourism Authority yesterday provided the 2016 figures as "evidence of the re-awakening of this important industry" and "the BTA is to be congratulated for focusing on new strategies to make this happen," Minister of Tourism, Transport and Municipalities Michael Fahy said.
Yesterday the BTA announced the 2016 tourism statistics saying that "leisure air arrivals surged 17 percent last year – an increase of 24,234 visitors travelled to the island. The 164,321 vacation arrivals by air in 2016 is the highest volume for leisure air arrivals since 2007."
"Meantime, 76 percent of the vacationer growth last year is from travellers under the age of 45, an indicator of sustainability for visitor growth going forward," the BTA said.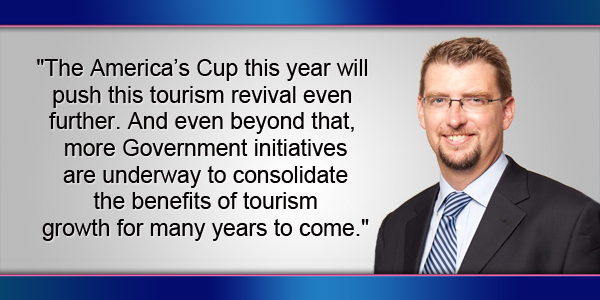 Minister Fahy said "There are indications that Bermuda's tourism renaissance is upon us. The Bermuda Tourism Authority yesterday provided the 2016 figures as evidence of the re-awakening of this important industry. The BTA is to be congratulated for focusing on new strategies to make this happen.
"The America's Cup this year will push this tourism revival even further. And even beyond that, more Government initiatives are underway to consolidate the benefits of tourism growth for many years to come.
"But we all need to get on the same page. Already there is political criticism that it hasn't meant jobs, that more money should go to marketing and that we haven't concentrated enough on attracting younger visitors. The tourism critic is wrong on all counts.
"Further increased air capacity out of key gateway cities and a massive rise in visitors under 45 years of age are all indicators that fly in the face of the Opposition's statement today which is simply utterly wrong and not worthy of further commentary.
"Bringing the America's Cup to Bermuda is a major win for Bermudians of all walks of life. It also brings to our island this spring 17 magnificent Tall Ships from 10 different countries during the last week of May and the first week of June, spending time in port in St. George and in Hamilton.
"Numerous other events are scheduled including the Antigua to Bermuda Race – a 935-mile offshore race of some 40 yachts beginning May 12. We also have had other new events including the J Class Regatta, the Red Bull Youth 2017 America's Cup and a Superyacht Regatta.
"Bermuda will host some 75-100 super yachts this year, bringing some of the finest watercraft in the world to the island at one time.
"America's Cup racing on Bermuda's Great Sound will begin in the last week of May and end with the final on June 17th. We are on the verge of a truly exciting tourism era in Bermuda. This spring and summer will be like none we've ever seen. So, it is somewhat amazing how we are getting there – off of a sterling 2016 year for Bermuda tourism.
"In just a short period, we created an environment which generated substantial interest in funding for hotel infrastructure, something we hadn't seen in three decades.
"We have consolidated an upsurge in air arrivals and cruise passengers and in total 2016 visitors after 35 years of declines. We are bringing a significant cruise presence back to Hamilton this year. We are also bringing a large number of cruise ship passengers back to the town of St. George.
45-minute live video replay of yesterday's BTA 2016 Visitor Arrivals press conference
"It's worth noting here that the cruise ship policy for the year ahead includes smaller premium ships for Hamilton – 25 visits – and the Town of St. George -14 visits. That's the most either town has seen for a long time.
"The east end will also benefit from the NCL Tender service that will shuttle NCL passengers between Dockyard and the old town, together with the Millennium Ferry for non NCL service. Altogether, these initiatives will bring far more activity to the east end.
"To make this happen there is ongoing work at both Hunter's Wharf and Penno's Wharf. The seawall at Hunter's Wharf is being rebuilt after being severely damaged by Hurricane Fabian in 2003.
"At Penno's Wharf, work is going on to address damage from Hurricanes Fay and Gonzolo, together with other improvements. The Bermuda Government has contributed $1.4M toward these refurbishment projects.
"Other major infrastructure works undertaken by the Corporation of St. George include water and sewer line upgrades and a face-lift for the cruise ship terminal building at Penno's Wharf.
"It is anticipated that all necessary upgrades will be completed for the upcoming season. Hunter's Wharf will be the new location for the ferry stop in St. George's and the cruise ship terminal will once again return to its primary use.
"The Pink Beach Hotel re-development, which has opened under its new name "The Loren" marks the first new build for hotel development in several years. A Ritz-Carlton Hotel development is on its way at Morgan's Point; a St. Regis in St. George's; $38 million dollars in renovations at Elbow Beach Hotel and the Surf Side Beach Club; and, guest room expansion at Coco Reef Hotel. This, after a huge shot in the arm at the Hamilton Princess which saw a $100-million re-fit.
"This has all meant a rise in employment and there is more expected in the hotels and elsewhere during the spring and summer.
"But it will be up to all of us to make this a success, because that is what increases the chances of continuing this tourism renaissance to further buoy our economy."

Read More About