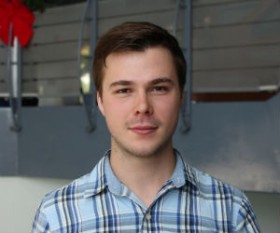 Young Bermudian entrepreneur Sam Roberts has launched a technical services business called BermyTech, providing technical support and related services to people across the island, and receiving a Best of Bermuda award in the process.
When asked about his company's focus, Mr. Roberts told Bernews, "Our main focus is technical support for both Mac and Windows PCs, televisions, as well as networking setup and extension. We perform both physical repairs as well as software issues.
"Often clients request that we assist with the setup of new computers or the organization of older machines. We offer services to both individuals and small businesses. We like to think we can take care of any technical support request, and would offer to outsource any work we could not provide."
When asked about what drove him to launch a business offering this type of technical service, Mr. Roberts said, "The demand spoke for itself in that when I returned from school and began following up on assistance requests from family and friends, the calls never stopped.
"I had worked at both Apple resellers – iClick and AF Smith – previously, and they had somewhat provided the service, so I knew there was a demand, and I knew where the service could be improved.
"Business has been excellent, but we're always open to new customers. We look forward to the influx of visitors for the America's Cup and hope to work closely with our small business customers to ensure the technical aspects of their business are up to an international standard.
"We aim to continue the standard which helped us to receive a 'Best of Bermuda' award for 2016."
When asked about his plans for BermyTech in the future, Mr. Roberts said, "In the future, we would like to expand BermyTech to replicate the level of technical support enjoyed elsewhere for both residential and business clients.
"We'd like to become the Geek Squad equivalent for Bermuda. Also, we hope to continue to build good relationships with other technical companies to help fill any gaps in their services."
"BermyTech is comprised of myself, Sam Roberts, born and raised Bermudian. I attended Warwick Academy, where I first began my technical experience working with the network administrator during school holidays. From there I began an internship at AF Smith, which quickly became a paying job, developing to full-time employment following my graduation.
"I then moved to iClick to expand my expertise, where I worked for a year and began there at home support service. My partner Earl is also Bermudian and was raised here. He also attended Warwick Academy, and then went to the University of New York, where he graduated with a B.S. in electrical engineering.
"Since then he has worked as a Network Development Manager and a Director of Information Systems in New York City, until returning to the island."
To learn more about BermyTech, visit the website.

Read More About
Category: All, Business, News, technology