In the tenth in a series of profiles of netball players who will be part of the team representing Bermuda at the Netball Europe Open being held in Scotland from May 11th to 14th, we spotlight Zekiah Lewis, a 16-year-old who plays in the Goal Attack, Wing Attack, Centre and Wing Defence positions.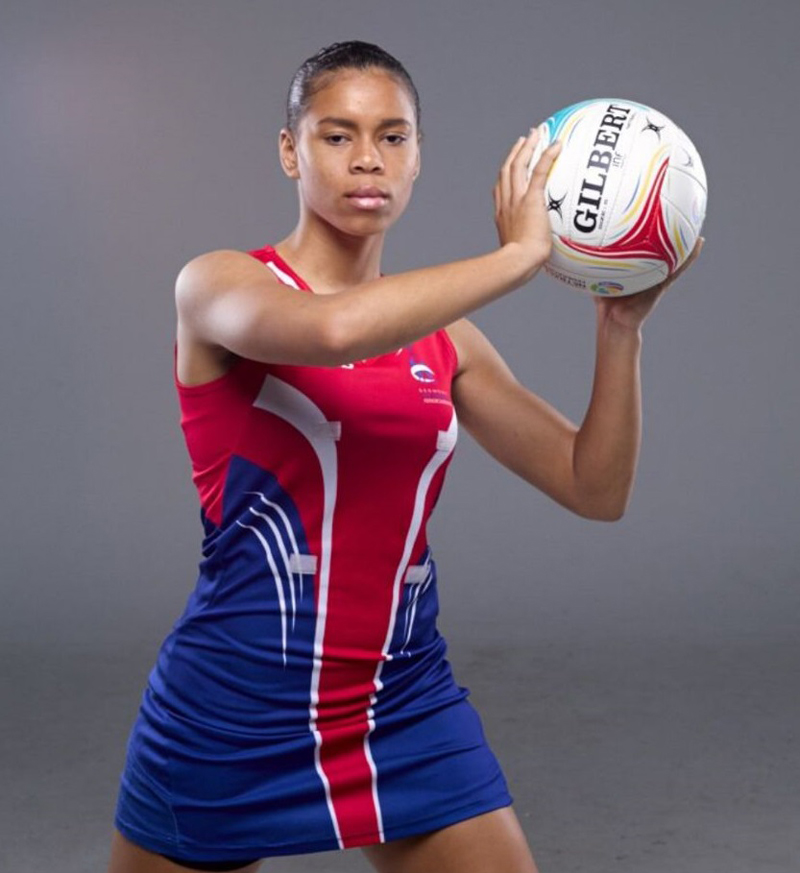 1. How does it feel to have been selected for such an elite squad?
This is a great experience for me. I have been working really hard and was worried whether I would make the final team selection as I think I am the youngest and the shortest on the team.
2. How will you prepare for the competition between now and May 11th?
Training has been intense. In addition to regular training sessions with the Netball Team, I also run track. I recently attended the Carifta games in Curacao [for long jump], which was an awesome experience; but also highlighted I still need to do a lot more work if I want to achieve all of my goals. So between the 2 sports [and school sporting activities] I tend to have training or a track meet at least 5 days a week. Its intense, but I know I need to pick it up a level if want to be successful as an elite athlete [whether that is in netball or track and field]
3. Will this be your first time in Scotland? Do you plan to take time to see some of the local sights during your time there?
I have never been Scotland, Unfortunately, I have exams during this period, so at this point am not even sure if I will be attending. However, if I do get to go, I would love to see some of the local sights.
4. When did you start playing netball and what prompted you to start?
I started playing netball in primary school, as part of the school team. I like sports, particularly netball and was good at it. So my parents enrolled me in the Young Men's Social Club [YMSC Bluebirds] netball team several years ago. I am currently playing with Team Storm.
5. Do you feel the sport of netball gets enough support from the local community?
Not really. Outside of the younger teams, there is not much support or awareness of the sport. A lot of people underestimate the level of skill and athleticism required to play netball. It is very technical and can be very demanding on the body [particularly with the pounding on the asphalt on the court].
6. What are ultimate goals in life, both on and off the court?
Right now I am concentrating on school and passing my GCSEs. I am hoping that I can use my sporting ability to obtain a scholarship to university in the future. I would love to make it to 'Worlds' for Track and Field, even better still, the next Olympics which will be held in Japan. I am also looking to do a Rotary Exchange, hopefully to Japan, upon completion of High School.
7. If you had to, for some reason, have one non-netball player on your team, like a local politician/entertainer/public figure, who would you choose and why?
I would choose my brother, Zeiko Lewis. He recently graduated from Boston College and is now a professional football player. Not only is he an awesome athlete but he is also my role model.
8. Which Bermudian athlete, coach or sporting figure do you admire most and why?
My brother, Zeiko Lewis. In additions to the reasons above, he has always been there for me. He sets high standards for himself and others [including me] to follow and knows what to say to motivate me to always be at my best. He can be a pain, but I know he always has my best interest at heart.

Read More About